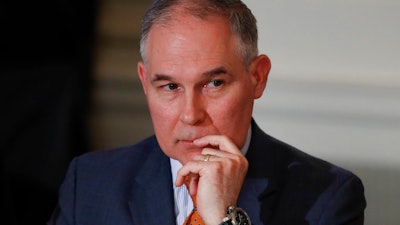 AP file
ARLINGTON, Va. (AP) — Dozens of environmentalists and others are speaking out against a proposal from the Environmental Protection Agency that would roll back regulations governing the disposal of ash generated by coal-burning power plants.
The EPA held its one and only public hearing about the proposal Tuesday at an Arlington, Virginia, hotel. The Trump administration says the new rules could save utilities $100 million annually in compliance costs and give states more flexibility in enforcement.
Environmental groups, though, say coal ash can pose significant risks to a clean drinking water supply if it is disposed of improperly and leaches into the groundwater or spills into rivers. They say regulations imposed at the end of the Obama administration are just now taking practical effect and should be allowed to continue.
Testimony Tuesday tilted heavily toward opposition. One activist sang her opposition in the form of an ode to clean drinking water.
Frank Holleman with the Southern Environmental Law Center testified Tuesday that even in southern states where President Donald Trump is personally popular, communities and citizens want to maintain strong regulation of coal ash.
"I have never heard a community ask for less protection from coal ash," he said. "Instead, communities throughout the South have asked for more protection. ... There is no call at the local level for this watering down of coal ash protections — these proposals are purely a creation of the Washington special interests."
After the hearing, he said the Trump administration's plan to roll back coal ash regulations are just one prong in a broad attack by the current EPA administrators on environmental protections on behalf of industry.
U.S. coal plants produce about 100 million tons annually of ash and other waste, much of which ends up in unlined disposal ponds prone to leak. Coal ash storage and disposal went largely unregulated until a 2008 spill at a power plant in Kingston, Tennessee, dumped waste into two nearby rivers.
In Virginia, electric supplier Dominion Energy is being scrutinized for how it plans to dispose of coal ash generated by its plants.
In a statement, the company said Tuesday that even if the EPA rolls back the federal regulations, it still must comply with state regulations that it views as stricter than the federal standards now in place.
"If the rule changes in the future, Virginia would have to revise its rule for any changes to apply at Virginia locations," the company said.