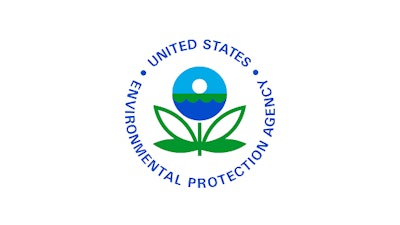 Wikipedia
WASHINGTON (AP) — The Senate on Thursday confirmed a former coal industry lobbyist as the second-highest official at the Environmental Protection Agency, putting him next in line to run the agency if embattled administrator Scott Pruitt is forced out or resigns.
Senators approved Andrew Wheeler as the agency's deputy administrator despite complaints from Democrats that Wheeler helped lead a fight by the coal industry to block regulations that protect Americans' health and begin to address climate change.
The Senate confirmed Wheeler Thursday 53-45. Three Democrats — Heidi Heitkamp of North Dakota, Joe Donnelly of Indiana and Joe Manchin of West Virginia — joined with Republicans to support Wheeler.
Until his nomination by President Donald Trump last fall, Wheeler worked as a lobbyist with a client list that included Murray Energy, one of the nation's largest coal mining companies. He accompanied Murray CEO Robert "Bob" Murray during a series of closed-door meetings to lobby the Trump administration to kill environmental regulations affecting coal mines.
"Andrew Wheeler's coal credentials are without equal. He is, without question, a member of the coal industry's Hall of Fame," said Sen. Edward Markey, D-Mass.
"Sadly, I am concerned that Andrew Wheeler's background means that he will never understand that saving coal is not the job of the EPA," Markey added. "It is the EPA's job to regulate coal to protect public health and the environment."
Republicans countered that Wheeler, 53, is well-qualified to lead the agency, having worked at the EPA early in his career and serving as Republican staff chief of the Senate Environment Committee before becoming a lobbyist nine years ago.
Wyoming Sen. John Barrasso, chairman of the Senate environment panel, said Wheeler has demonstrated his commitment to sound environmental policies and has "exemplified excellence in his professional endeavors," both in government and in the private sector.
In the style of his boss, Trump, Pruitt tweeted his approval soon after the Senate vote.
"Let me be the first to congratulate Andrew Wheeler as @EPA's new deputy administrator. Andrew has spent his entire career advancing sound environmental policies & I look forward to working with him to implement President Trump's environmental agenda," Pruitt wrote.
Democratic Sen. Tom Udall of New Mexico had called for the vote to be delayed while lawmakers review Wheeler's credentials, citing Pruitt's uncertain status amid damaging ethics disclosures. His request was denied.
"The problem with the Wheeler nomination is if (Pruitt) goes tomorrow, Wheeler is in fact the administrator. And that's a very, very serious problem," Udall said Wednesday.
Sen. Ben Cardin, D-Md., said circumstances surrounding Wheeler have changed since the environment panel voted along party lines in February to advance Wheeler's nomination. "With the cloud over Administrator Pruitt," lawmakers are uncertain if they are voting on Wheeler to lead EPA or "be the deputy administrator," Cardin said
Heitkamp, who faces a tough re-election in a state won easily by President Donald Trump, said she is confident Wheeler will "be open to working on issues important to North Dakota in a pragmatic and fair way. And I'll hold him accountable to make sure he implements the mission of the EPA in a way that works for my state."
Heitkamp and Manchin, who also faces a tough race in state Trump won easily, broke last year with their party's leaders to vote in favor of confirming Pruitt, a former Oklahoma attorney general aligned with the oil and gas industry. Since arriving at EPA in February 2017, Pruitt has worked relentlessly to scrap, roll back and rewrite pollution regulations opposed by the fossil-fuel industry.
Maine Sen. Susan Collins, the sole Republican to oppose Pruitt, supported Wheeler's nomination. "Mr. Wheeler has demonstrated that he understands the mission of the EPA and the role of Congress when it comes to oversight and accountability," she said.
Senators asked Wheeler about the meeting with the Trump administration on behalf of Murray Energy during a November hearing. Wheeler acknowledged he attended but said he couldn't remember any details.
Photos later emerged that showed Wheeler sitting at the table during an undisclosed meeting where Murray handed Energy Secretary Rick Perry a four-page "action plan" to revive the nation's struggling coal industry. The Trump administration later carried out several of the recommended actions.
Like Pruitt, Wheeler has expressed public skepticism about the consensus of climate scientists that the continued burning of fossil fuels is the primary cause of global warming.
Environmental groups said the combination of Pruitt and Wheeler could prove devastating to the environment.
"Before the Trump administration, it would have been inconceivable that a coal and chemical industry lobbyist with a long history of hostility toward environmental policy would be the No. 2 at EPA," said Ken Cook, president of the Environmental Working Group.