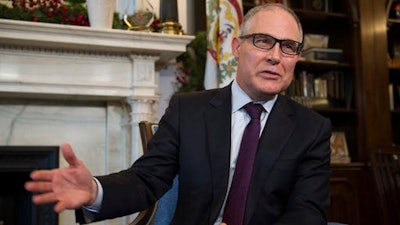 AP Photo/Cliff Owen, File
WASHINGTON (AP) — When President-elect Donald Trump's choice to head the U.S. Environmental Protection Agency first took office as Oklahoma's attorney general, he disbanded the unit responsible for protecting the state's natural resources.
Instead, Scott Pruitt reassigned his staff to focus on filing lawsuits against the federal agency he's now selected to lead.
Records also show that Pruitt, a Republican who faces a Senate confirmation hearing Wednesday, failed to push a legal challenge initiated by his predecessor to protect Oklahoma's rivers from pollution caused by animal waste, after receiving tens of thousands of dollars in campaign contributions from individuals connected to the poultry industry.
"It's not just that he disbanded the unit and moved those people around. He created a whole new unit specifically to fight the EPA, among other things," said Mark Derichsweiler, who retired last year as a water-quality engineer at Oklahoma's Department of Environmental Quality.
Derichsweiler worked on a lawsuit that Pruitt's predecessor as attorney general, Drew Edmondson, had filed against more than a dozen poultry companies that include industry giant Tyson Foods.
"I think it's become more clear that he's more of an advocate for the big energy companies and utilities than he is for the general population of Oklahoma that have to breathe the air and drink the water," Derichsweiler, a Democrat, told The Associated Press last week.
The nomination of Pruitt, 48, to lead the EPA is being fiercely opposed by environmental groups that point to fundraising ties with corporations he has sued to protect.
In Oklahoma, he joined with other Republican attorneys general in opposing the Obama administration's Clean Power Plan, which seeks to limit planet-warming carbon emissions from coal-fired power plants. Pruitt also sued over the agency's recent expansion of water bodies regulated under the federal Clean Water Act, which has been opposed by industries that would be forced to clean up polluted wastewater.
Though Pruitt ran unopposed for a second term in 2014, campaign finance reports show he raised more than $700,000, much of it from people in the energy and utility industries. Among those who gave the maximum contribution of $5,000 to Pruitt's campaign was Continental Resources Chairman and CEO Harold Hamm, an Oklahoma oil tycoon who has been advising the president-elect.
Like Trump, Pruitt has also publicly cast doubt on the extensive body of scientific evidence showing that the planet is warming and that man-made carbon emissions are to blame.
Pruitt has declined repeated requests for interviews since first meeting in November with Trump about the top job at the EPA. His spokesman, Lincoln Ferguson, said responsibility for environmental enforcement cases was simply moved to a newly created unit, the solicitor general's division.
"Under the leadership of AG Pruitt, this team has held bad actors accountable and protected stewardship of Oklahoma's natural resources," Ferguson said in a statement.
However, court records show that in recent years the unit cited by Ferguson has primarily focused on litigation against the federal government in cases of perceived regulatory overreach.
Ferguson provided the AP a list of environmental cases Pruitt's office has handled. A check of court records shows many of those cases were actually initiated by Pruitt's predecessor, a Democrat who did not run for re-election in 2010.
Of 14 lawsuits in which Pruitt challenged federal environmental regulations, in all but one of those cases his co-litigants included companies whose executives had made campaign donations supporting him, according to an analysis by EDF Action, the political advocacy arm of the Environmental Defense Fund. It found such contributions to Pruitt's campaigns and associated political action committees amounted to about $240,000.
"Our research identified a remarkably sustained pattern of contributions flowing to Scott Pruitt's political causes at the same time he was taking action to oppose clean air and clean water for Americans," said Martha Roberts, an attorney with EDF Action.
Pruitt's office declined to comment on his past fundraising, instead referring inquiries to Trump's transition team, which didn't respond to requests for comment. A lawyer for two political action committees tied to Pruitt told AP earlier this month they would be dissolved before any move to Washington.
Pruitt has faced similar criticism over his handling of the poultry case initiated by his predecessor that has been languishing in federal court for more than six years. During his campaign in 2010, Pruitt received nearly $38,000 in contributions from executives with the poultry companies named in the lawsuits and their lawyers.
"Regulation through litigation is wrong in my view," Pruitt told The Oklahoman newspaper in 2015.
Pruitt let expire a 2003 agreement between Arkansas and Oklahoma aimed at reducing pollution from poultry waste and approved a new deal that called for more water-quality testing while agreeing not to institute any new enforcement actions or judicial proceedings against the industry.
Despite a lack of resolution in the case, the water quality in northeastern Oklahoma has improved during Pruitt's tenure, said Ed Fite, longtime administrator of Oklahoma's Scenic Rivers Commission.
Still, other Oklahomans who work to protect the state's waterways say they have grave doubts about Pruitt's commitment to environmental enforcement.
Pruitt also has faced sharp criticism from environmentalists for failing to take any action to help curb a dramatic spike in earthquake activity that scientists have linked to the underground disposal of oil and gas wastewater.