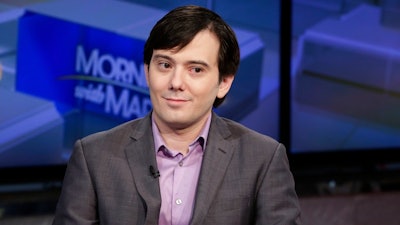 AP Photo/Richard Drew, File
NEW YORK (AP) — "Pharma Bro" Martin Shkreli is due back in court Friday for a hearing about whether he should forfeit millions of dollars in assets including a one-of-a-kind Wu-Tang Clan album as part of his conviction in a securities fraud scheme.
Prosecutors are expected to argue in federal court in Brooklyn that Shkreli is on the hook for more than $7 million. Along with the Wu-Tang Clan "Once Upon a Time in Shaolin" album that Shkreli has boasted he bought for $2 million, prosecutors have said he should give up $5 million in cash in a brokerage account, his interest in a pharmaceutical company and other valuables including a Picasso painting.
The defense has said the brash former pharmaceutical CEO owes nothing because in the end, his investors did not lose the money.
Shkreli, 34, is perhaps best known for boosting the price of a life-saving drug and for trolling his critics on social media where he became known as "Pharma Bro." A jury convicted him in August of cheating investors in two failed hedge funds.
Shkreli was out on bail during his trial but was jailed afterward when a judge decided he had made veiled online threats against Democrat Hillary Clinton.
His sentencing is scheduled for March 9.