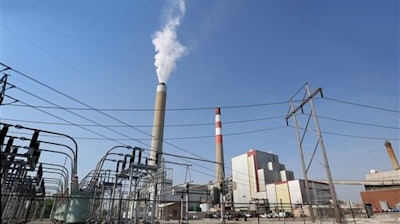 AP file
NEW ALBANY, Ind. (AP) — Duke Energy is planning to close coal ash ponds in Indiana because of new federal environmental regulations.
Duke spokeswoman Angeline Protogere told The News and Tribune that the company is moving coal ash from some of its Gallagher Station ponds in New Albany to a landfill. Other ponds will be closed in place on the property.
Coal ash is the waste produced from burning coal and can contain harmful toxins.
Closing ponds entails draining the water, drying the ash, covering the basins with a liner and monitoring the groundwater for contaminants. Monitoring will last for at least 30 years with results being reported to the state. If any samples show significant levels of contamination, the Indiana Department of Environmental Management would oversee potential remediation efforts.
"So there are a lot of protections in place once we complete the work," Protogere said.
Environmentalists say they're concerned about the ponds' proximity to an aquifer and the Ohio River. Many of Gallagher Station's ponds were built in the 1960s and don't have liners between the coal ash and the ground.
"If there's nothing in between the ash and the aquifer, then there's going to be contamination because these riverside groundwater systems are hydrologically connected to the river," said Tim Maloney, Hoosier Environmental Council Senior Policy Director.
The safest way to close coal ash ponds is to move the ash to a well-engineered landfill, Maloney said.
Protegere said removing the 9.3 million tons of coal ash at Gallagher Station would take 500,000 truck trips over the next few decades while closing ponds would take months or years.
The Indiana Department of Environmental Management is reviewing the company's plans.
Duke also plans to dispose coal ash into Terre Haute ponds, which they'll also close. Residents have expressed concerns about the ponds' proximity to the Wabash River.