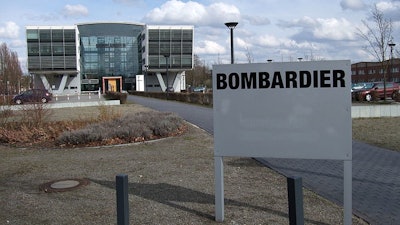 Wikimedia Commons
STOCKHOLM (AP) — A Russian employee in the Swedish offices of plane and train maker Bombardier has been detained in pre-trial custody for two weeks on suspicion of aggravated bribery, a Swedish prosecutor said Friday.
Thomas Forsberg said Evgeny Pavlov, a Russian national living in Stockholm, was one of several Bombardier employees "suspected to have been colluding" with Azerbaijan railway authorities "in order to adapt a contract" to fit Bombardier.
Forsberg said Pavlov worked with Bombardier Transportation Sweden AB. On LinkedIn, Pavlov described himself as "Head of sales, Marketing and Country coordinator for the north region."
Pavlov was ordered held in pre-trial custody to prevent him from fleeing or tampering with evidence. Two others were briefly detained during the week but were released, Forsberg told The Associated Press. Both remain suspects while the investigation continues. Formal charges have not yet been made.
Forsberg said emails seized in October 2016 during a search of Bombardier offices in Sweden were considered evidence in the case.
He said that the suspicion was that Azerbaijani officials cooperated with Bombardier, which is headquartered in Canada, to "receive rewards for having favored the Bombardier contract."
The allegations against Pavlov also included dealings with a private company that joined a consortium that won the tender with Bombardier. Forsberg said Azerbaijani companies awarded contracts worth at least $56 million.
Bombardier Inc. spokeswoman Barbara Grimm said the company is cooperating with Swedish authorities and will provide more information when available and appropriate.
If tried and found guilty, the maximum penalty in Sweden is six years, Forsberg said.