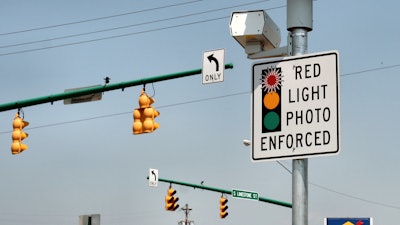 CHICAGO (AP) — The city of Chicago has settled a lawsuit for $20 million that it filed against a red-light camera company whose former chief executive pleaded guilty to a federal bribery charge.
Chicago Mayor Rahm Emanuel announced the settlement Monday with Redflex Traffic Systems Inc. of Arizona and its Australian parent company Redflex Holdings Ltd. The lawsuit accused Redflex of fraud and making false statements when it contracted in 2003 to run the city's red-light camera enforcement program.
Redflex Traffic Systems President and CEO Michael Finn said in a statement Monday that the settlement marks a "new beginning" for the company. Emanuel lauded the settlement as a taxpayer victory.
Former Redflex chief executive Karen Finley and former Chicago transportation official John Bills were convicted in a $100 million kickback scheme.