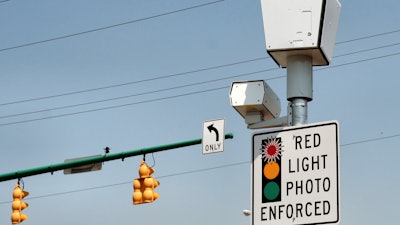 Wikimedia
CHICAGO (AP) — A former Chicago transportation official was sentenced Monday to 10 years in prison for taking bribes to steer $100 million in red-light camera contracts to a company in Phoenix.
U.S. District Judge Virginia Kendall sentenced John Bills, 55, in Chicago moments after he apologized for his actions. Federal prosecutors had asked the judge for at least a 10-year prison sentence.
The former second-in-command at Chicago's Department of Transportation was convicted in January of bribery, conspiracy and extortion.
Bills was accused of accepting envelopes stuffed with cash, along with gifts — including condos in two states and a Mercedes — to help Redflex Traffic Systems obtain contracts in a decade-long scheme. Prosecutors said the cash and gifts were worth a total of up to $2 million.
Bills' attorney, Nishay Sanan, had asked for a more lenient sentence of three to four years in prison.
"Mr. Bills is not ex-Gov. Blagojevich," Sanan told the judge, referring to former Illinois Gov. Rod Blagojevich, who is serving a 14-year prison term. "He's not selling Senate seats."
During the trial, a Redflex consultant, who pleaded guilty to his role in the scheme, testified that he passed envelopes stuffed with thousands of dollars in cash at a time to Bills at a restaurant.
"This was a decade-long scheme to lie, cheat and steal at the expense of taxpayers," said U.S. Attorney Zachary Fardon, who represented the government at the hearing.
Chicago Mayor Rahm Emanuel canceled Redflex's contract in 2013 following the Chicago Tribune's reports about the bribery scheme. Bills retired from his job as Chicago's managing deputy commissioner of transportation in 2011. He was charged in 2014.