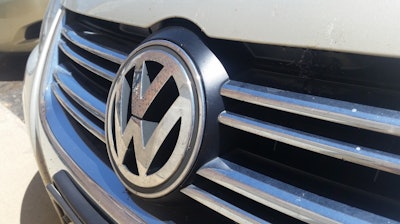 David Mantey
DETROIT (AP) — The Volkswagen executive who once was in charge of complying with U.S. emissions regulations has been arrested in connection with the company's emissions-cheating scandal, a person briefed on the matter said Monday.
Oliver Schmidt, who was general manager of the engineering and environmental office for VW of America, was arrested during the weekend in the federal criminal investigation, said the person, who didn't want to be identified because they are not authorized to speak on the case.
Schmidt is the second VW employee to be arrested as the probe led by the U.S. Attorney's Office in Detroit continues. The New York Times reported that he's expected to be arraigned Monday on a conspiracy charge in a federal courtroom in Detroit.
Schmidt's bio for a 2012 auto industry conference said Schmidt was responsible for ensuring that vehicles built for sale within the U.S. and Canada comply with "past, present and future air quality and fuel economy government standards in both countries." It says he served as the company's direct factory and government agency contact for emissions regulations.
Volkswagen has admitted that it programmed diesel-powered vehicles to turn pollution controls on during tests and turn them off in real-world driving. The scandal has cost VW sales and has tarnished its brand worldwide.
A lawsuit filed last year by the New York state attorney general said that Schmidt "played an important role" in concealing the deception from regulators.
Volkswagen said in a statement Monday that it is cooperating with the Justice Department in the probe. "It would not be appropriate to comment on any ongoing investigations or to discuss personnel matters," the statement said.
A message was left Monday for a Justice Department spokeswoman in Detroit. Peter Carr, a Justice spokesman in Washington, did not immediately return an email seeking comment.
Herbert Diess, a member of Volkswagen AG's board of management, appeared in Detroit Sunday evening to introduce a new version of VW's Tiguan SUV ahead of the North American International Auto Show. He wouldn't comment when asked if some Volkswagen executives refused to come to the auto show for fear of being arrested.
"I'm here, at least," he said.
Asked about the Justice Department investigation, Diess also wouldn't comment, but said he hopes it's resolved "as soon as possible."
The company has agreed to either repair the cars or buy them back as part of a $15 billion settlement approved by a federal judge in October. Volkswagen agreed to pay owners of 2-liter diesels up to $10,000 depending on the age of their cars.
In October, VW engineer James Robert Liang, of Newbury Park, California, pleaded guilty to one count of conspiracy to defraud the government and agreed to cooperate with investigations in the U.S. and Germany. Liang was the first person to enter a plea in the wide-ranging case, and authorities were expected to use him to go after higher-ranking VW officials.
A grand jury indictment against Liang detailed a 10-year conspiracy by Volkswagen employees in the U.S. and Germany to repeatedly dupe U.S. regulators by using sophisticated emissions software. The indictment detailed e-mails between Liang and co-workers that initially admitted to cheating in an almost cavalier manner but then turned desperate after the deception was uncovered.
Tests commissioned by the nonprofit International Council on Clean Transportation in 2014 found that certain Volkswagen models with diesel engines emitted more than the allowable limit of pollutants. More than a year later, Volkswagen admitted to installing the software on about 500,000 2-liter diesel engines in VW and Audi models in the U.S. Later the company said some 3-liter diesels also cheated.
The Environmental Protection Agency found that the 2-liter cars emitted up to 40 times the legal limit for nitrogen oxide, which can cause human respiratory problems.
____
Eric Tucker in Washington and Dee-Ann Durbin in Detroit contributed to this report.