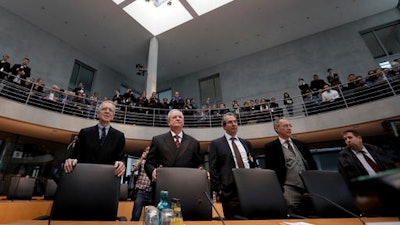 AP Photo/Michael Sohn
BERLIN (AP) — Former Volkswagen CEO Martin Winterkorn denied having had early knowledge of the company's cheating on diesel emissions as he testified Thursday to a German parliamentary inquiry, his first major public appearance since he resigned.
The 69-year-old stepped down in September 2015, days after news of Volkswagen's use of software to cheat on emissions emerged in the U.S., saying at the time that he was not aware of any wrongdoing on his part.
"As CEO I took political responsibility," he told lawmakers. "Believe me, this step was the most difficult of my life."
Winterkorn, flanked by two lawyers, told the panel in an opening statement "it is not the case" that he knew earlier than previously thought of the scandal, as some recent reports have suggested. He said he's still seeking "satisfactory answers" as to what happened.
Winterkorn said he wouldn't comment on details that are a matter for a criminal investigation by prosecutors in Braunschweig, Germany, and declined to answer several questions on when exactly he knew what.
The former CEO, who gave his profession as "trained engineer," acknowledged that "love of detail" was his "trademark."
"It is not comprehensible why I was not informed early and clearly about the measurement problems," he said.
"Of course I ask myself if I missed signals or misread them," he added. He wouldn't elaborate on what those signals were, citing the ongoing investigation — which centers on allegations that top executives didn't inform investors soon enough of the emissions-cheating scandal.
Winterkorn told lawmakers that he appreciates "open talk."
"I never had the impression that people shied away from talking openly to me," he said.
Volkswagen installed software on diesel engines that activated pollution controls during tests and switched them off in real-world driving. The software allowed the cars to spew harmful nitrogen oxide at up to 40 times the legal limit.
Winterkorn reiterated his "deep dismay" that Volkswagen disappointed millions of customers and underlined his commitment to helping up the events at the automaker.
"What happened makes people angry — me too," he said.
But "I am a realist," he added. "I have to accept that my name is closely linked to the so-called diesel affair."
The German parliamentary inquiry was set up last July. It is tasked with looking into whether the German government knew about vehicles' emissions on the road diverging from their emissions in testing, and whether there were indications of the cause.
Winterkorn faced the panel for two hours, speaking calmly and quietly, sometimes with his arms folded.
Lawmakers said they were little the wiser after Winterkorn's appearance. Some questioned his assertion, when asked when he had first heard the term "defeat device," that it was "certainly not before September 2015."
"I would have expected of a chief executive that he would at least have known of this term before September 2015," said committee chairman Herbert Behrens, of the opposition Left Party. "I think that, in many parts, he stopped short of what he knows," Behrens told reporters.
Fellow panel member Oliver Krischer of the Green party said that "this paints either a picture of a boss who didn't know what was going on in his company or, alternatively, Prof. Winterkorn isn't presenting things as they really were and is downplaying his role in this whole emissions scandal."
"The decisive questions for us — who at VW knew what at which point in concrete terms — were not answered by Prof. Winterkorn today," said Ulrich Lange of Chancellor Angela Merkel's conservative Union bloc.