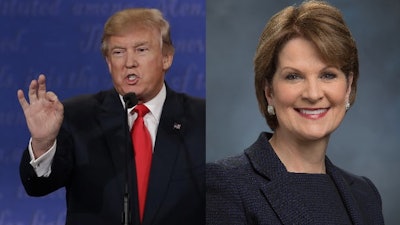 IEN
Yesterday, Marillyn Hewson, chairman, CEO and president of Lockheed Martin, met with Donald Trump and discussed the F-35 program that the president-elect has criticized. Hewson issued the following statement:
"I had a productive meeting with President-elect Trump this afternoon. I appreciated the opportunity to discuss the importance of the F-35 program and the progress we've made in bringing the costs down. The F-35 is a critical program to our national security, and I conveyed our continued commitment to delivering an affordable aircraft to our U.S. military and our allies."
Ten days ago, the AP reported that President-elect Trump vowed to corral the "out of control" cost of the F-35 Joint Strike Fighter.
According to the AP, Trump's tweet caused Lockheed Martin's shares to tumble, and wiped out nearly $4 billion of the company's market value.
The F-35 program made up 20 percent of Lockheed's total 2015 revenue of $46.1 billion.