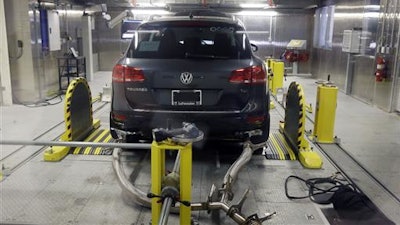 AP Photo/Carlos Osorio, File
DETROIT (AP) — Volkswagen will spend up to $15.3 billion to settle consumer lawsuits and government allegations that it cheated on emissions tests in what lawyers are calling the largest auto-related class-action settlement in U.S. history.
Up to $10 billion will go to 475,000 VW or Audi diesel owners, who thought they were buying high-performance, environmentally friendly cars, but later learned the vehicles' emissions vastly exceeded U.S. pollution laws. VW agreed to either buy back or repair the vehicles — although it hasn't yet developed a fix for the problem. Owners will also receive payments of $5,100 to $10,000, depending on the age of their vehicles.
The settlement also includes $2.7 billion for environmental mitigation and another $2 billion for research on zero-emissions vehicles. The German automaker also settled claims with 44 states, Washington, D.C., and Puerto Rico for about $603 million. It still faces billions more in fines and penalties as well as possible criminal charges.
Volkswagen has admitted that the 2-liter diesels were programmed to turn on emissions controls during government lab tests and turn them off while on the road. Investigators determined that the cars emitted more than 40 times the legal limit of nitrogen oxide, which can cause respiratory problems in humans. The company got away with the scheme for seven years.
"Using the power of the Clean Air Act, we're getting VW's polluting vehicles off the road and we're reducing harmful pollution in our air — pollution that never should have been emitted in the first place," said Gina McCarthy, administrator of the Environmental Protection Agency. "It should send a very clear message that when you break the laws designed to protect public health in this country, there are serious consequences."
Owners who choose to have VW buy back their cars would get the National Automobile Dealers Association clean trade-in value from before the scandal became public on Sept. 18, 2015. That would be $12,500 to $44,000, depending on the model, age, mileage and options on their car, the Justice Department said in a statement.
Models covered by the settlement include the 2009-2015 Jetta and Audi A3, the 2010-2015 Golf, and the 2012-2015 Beetle and Passat, all with 2-liter diesel engines.
Owners can also have VW repair the cars for free — assuming it comes up with a fix. According to court documents filed Tuesday, there currently is no repair that can bring the cars into compliance with U.S. pollution regulations. If VW eventually proposes a repair, it must be approved by the Environmental Protection Agency and the California Air Resources Board.
Volkswagen also will pay off customers' loans if they owe more than their car is worth due to rapid depreciation. Owners will have the option of having VW retire loans up to 130 percent of the cars' value before the scandal.
If VW can come up with a repair that meets EPA and California standards, it's likely to hurt the cars' acceleration and fuel economy. Volkswagen marketed the cars as both more fuel efficient and better performing that those with regular gasoline engines. VW has to submit any proposed fixes to the EPA between November of 2016 and October of 2017.
The settlement still must be approved by U.S. District Judge Charles Breyer, who has said a hearing for preliminary approval on July 26. Owners can choose to decline Volkswagen's offer and sue the company on their own.
The company has to buy back or repair 85 percent of the vehicles or pay even more money into an environmental trust fund.
"This historic agreement holds Volkswagen accountable for its betrayal of consumer trust and requires Volkswagen to repair the environmental damage it caused," said Elizabeth Cabraser, the lead attorney for consumers who sued the company.
Unless it can develop a suitable fix, VW may be forced to buy back all the 2-liter vehicles. But it appears from documents filed by the Justice Department and EPA that the technology might not be available to fix them. VW has been working on repairs since around the time the scandal broke.
"At the present time, there are no practical engineering solutions that would, without negative impact to vehicle functions and unacceptable delay, bring the 2.0 Liter subject vehicles into compliance with the exhaust emission standards and the on-board diagnostics requirements," the order said.
Lawyers are still working on settlements for another 80,000 vehicles with 3-liter diesel engines.
Volkswagen says the $10 billion consumer settlement assumes that it will buy back all of the cars.
"We take our commitment to make things right very seriously and believe these agreements are a significant step forward," Volkswagen AG CEO Matthias Mueller said in a statement.
VW said in April that it has set aside $18.2 billion charge to cover the cost of the global scandal, which includes a total of 11 million vehicles worldwide. The scandal has hurt VW-brand sales in the U.S. In the first five months of 2015, before the scandal, Volkswagen sold 144,006 cars in the U.S. In the first five months of this year, the total fell 13 percent to 125,205.
Don Marron, a banker from Allentown, Pennsylvania, who owns a 2012 Jetta SportWagen diesel, said he's glad Volkswagen is offering more compensation than earlier reports had suggested. But Marron wants assurance that if Volkswagen fixes his car but he doesn't like the way it performs, the company will still buy it back. And if he keeps his car and saves Volkswagen money, he wants compensation for doing that.
"At this moment, I don't know anything more than I did a couple of months ago," he said.
The scandal erupted in September when U.S. regulators revealed that the German automaker had fitted many of its cars with software to fool emissions tests and had put dirty vehicles on the road. Car owners and the U.S. Department of Justice sued.
The company, which knew the EPA's testing routine, got away with the scam for seven years before being caught by the International Council on Clean Transportation, which hired West Virginia University to test a VW in real roads conditions. The EPA has since changed its testing to include on-road tailpipe checks.
___
Associated Press environmental writer Michael Biesecker contributed from Washington.