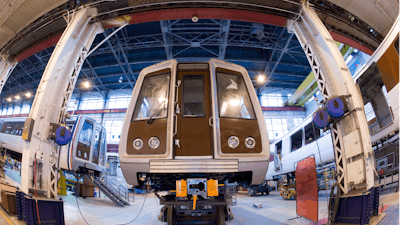 Federal workplace safety and health inspectors have cited a rail manufacturing and repair service facility in Syracuse, NY for 17 serious violations, including exposing employees to unsafe levels of known cancer-causing chemicals such as cadmium, lead, nickel and silica.
Responding to a complaint, the U.S. Department of Labor's Occupational Safety and Health Administration initiated an inspection of Alstom Transportation, Inc. and found that the employer:
Exposed employees to cadmium, lead, nickel and silica beyond permissible exposure limits.
Failed to provide changing and shower areas to employees who worked with cadmium and lead, significantly increasing the likelihood of contamination outside the immediate work area – such as the lunchroom and break areas – and causing exposure to the chemicals while eating or drinking.
Failed to provide employees exposed to lead and cadmium with required medical surveillance.
Allowed chromium, copper fume, iron oxide and silica exposure among employees in sandblasting and welding operations to exceed permissible exposure limits.
Did not train painters to properly use or store respirators.
In addition, inspectors found Alstom failed to ensure workers cleaned or removed lead-contaminated protective equipment before entering eating areas. Poor housekeeping caused contamination from silica residue and left dining tables contaminated with lead. OSHA also cited the company for violations related to noise, respiratory combustible materials, operating machine, welding, electrical and blood borne pathogen hazards.
The company citations carry proposed penalties totaling $105,000.
"Employers who work with hazardous materials like these need to first determine if the materials can be removed by replacing them with something less hazardous," said Chris Adams, Syracuse OSHA area director. "If not, employers must use the correct ventilation to reduce airborne exposure levels to below the OSHA limits. These hazards are preventable when employers ensure safety guidelines are followed."
A subsidiary of Alstom SA based in France, Alstom Transportation Inc. develops, manufactures, and markets systems and equipment for the railway market. Founded in 1997, the company employs more than 5,500 employees in the U.S., 550 of which work in Syracuse. The company operates the largest passenger rail manufacturing facility in North America, producing more than 8,000 new or refurbished rail vehicles to customers across the northeastern U.S., including 1,000 subway cars to the New York City transit system. Its U.S. headquarters are in New York City.