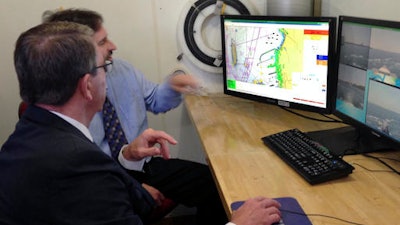 AP Photo/Jennifer McDermott
NEWPORT, R.I. (AP) — U.S. Defense Secretary Ashton Carter said on Wednesday that a naval facility in Rhode Island is doing what the entire Defense Department should do: develop technology more quickly.
Carter made the comments about the Naval Undersea Warfare Center in Newport after he visited the center to see the latest in unmanned vehicles and other undersea technologies.
"One of the things that's very inspiring to me and that cut through all of the projects that I've seen is the fact that the Navy, here at this facility, is doing what we all need to be doing everywhere in the department, which is speeding up the pace at which ideas get into the fleet," he said.
To be competitive, Carter said, "you have to be fast and you have to be agile."
During the visit, Carter set the course for an unmanned surface vehicle and watched it follow that course in the bay. He received a classified briefing about the new applications and technologies for unmanned undersea vehicles before watching an unmanned aerial vehicle fly overhead. Scientists and engineers discussed with him the use of virtual technology in training and the latest projects they're working on.
The warfare center has worked to quicken the time it takes to develop new technologies in recent years, said Donald Aker, the center's deputy technical director. Contractors are brought into the process earlier so technologies can go from the laboratory to the field in less time, and more testing is done in early stages instead of at the end, among other changes, he added.
Carter also stressed the importance of technology development when he addressed students at the U.S. Naval War College in Newport on Wednesday. He said the defense industry once had a stronger connection to the technology industry, and he's spending a lot of time in Silicon Valley and Boston trying to restore it.
Carter visited Rhode Island as part of a three-day trip to New England to see Navy installations and meet service members.
At Yale University in New Haven on Monday, Carter, a Yale alumnus, awarded commissions to the university's first ROTC graduating class in more than four decades.
On Tuesday in Groton, Carter thanked employees at General Dynamics Electric Boat for building submarines and toured the Naval Submarine Base.