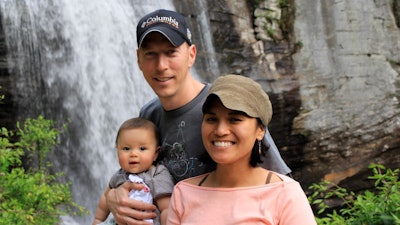 Jim Gilpin/Courtesy of Jamie Gilpin via AP
NEW YORK (AP) — Small businesses in North Carolina are already losing valuable business because of the new state law limiting protections for gay, lesbian, bisexual and transgender people.
Companies that cater to travelers from out of state are already feeling an impact from canceled events or are seeing a drop in inquiries. The Raleigh area will lose an estimated $3 million because of four conferences canceled or scaled back since the state legislature passed the bill March 23, according to the Greater Raleigh Convention and Visitors Bureau, and more events might also be canceled. Travel is a big industry in North Carolina, bringing in more than $21 billion in revenue last year.
Some business owners are trying to find ways to replace lost revenue. Others are concerned about being able to recruit out-of-state workers
Inquiries about Jamie Gilpin's Asheville area bicycle tours are down about a third since the law was passed. The tours take cyclists to places like the Blue Ridge Mountains, waterfalls and breweries. The falloff in interest was a surprise to Gilpin, owner of Outfitter Bicycle Tours, based in Hendersonville.
"It is a perfect cycle destination — tourism is huge here," Gilpin says.
Facebook ads about the tours drew angry comments, with some people calling for a boycott of North Carolina.
"We started getting comments like, 'we'll never come your way.' It was kind of a shock to me," Gilpin says. He stopped running the Asheville ads on social media, deciding to instead promote tours to California, France and Italy.
The law prohibits local ordinances that protect the rights of gay, lesbian, bisexual and transgender people and excludes them from state employment and public accommodation protections. Since its passage, big corporations including online payments company PayPal and entertainment conglomerate Lionsgate canceled plans to do business in the state. Rock stars Bruce Springsteen and Pearl Jam canceled concerts, which meant a drop in business for hotels and restaurants near the concert venues.
When poet Sherman Alexie canceled a May 18 appearance at Malaprop's Bookstore, the Asheville shop reached out to other authors and asked them not to cancel as well, general manager Linda-Marie Barrett says. So far, no one else has.
"These events are really important as a source of revenue for the bookstore," Barrett says. Malaprop's plans a fundraiser for groups working to repeal the law on the evening that Alexie, who canceled all his planned appearances in North Carolina, was scheduled to appear.
Barrett is concerned about the summer months, when the store gets as much business from tourists as it does from year-end holiday shopping. But if fewer people visit Asheville and the store, Malaprop's will likely hold events to bring in local residents, Barrett says.
Cancellations of concerts and convention plans have already hurt small businesses like restaurants and hotels, or threaten to cut into future revenue. The Greater Raleigh Convention and Visitors Bureau reported that four groups have canceled events in Wake County, where Raleigh is located. Another 16 are reconsidering their plans to hold events, the bureau said; that puts $24 million in visitor spending in jeopardy.
Shish Kebab, a restaurant down the street from the Raleigh Convention Center, stands to lose between 10 percent and 20 percent of its business when an event is canceled, owner Sam Yehia says. No one is talking about going out of business.
"There's nothing at this point we can do," Yehia says.
Businesses in North Carolina are in a similar situation to those shut down by disasters or affected by military base closings, losing business to circumstances beyond their control, says Dennis Ceru, an adjunct professor of entrepreneurship at Babson College. He recommends companies build cash reserves to help them handle a drop in revenue.
"Small business owners are tossed about on the oceans of business cycles more so than large companies are," Ceru says.
Companies hoping to recruit workers to North Carolina are also concerned. Craft beer brewing has become a big industry in North Carolina over the past two decades, but Keil Jansen is worried that he won't be able to attract people experienced in beer making to his growing Durham brewery, Ponysaurus Brewing Co. He's afraid the people he'd want to hire will be drawn to states like California and Colorado seen as more socially progressive than North Carolina.
"If you know how to run this stuff (the brewing process) and run it well, you can live anywhere and work where you want," says Jansen, whose company was launched in 2013.
When Jansen has an opening, he expects to advertise the fact that Durham is more liberal than other parts of the state. In the meantime, he's trying to let his customers know he doesn't agree with the law. Ponysaurus and another brewery are producing a new beer and plan to donate the profits to gay-rights groups.
The passage of the bill came as Michael and Kathryn Westcott are trying to launch a business catering to tourists. They're opening up their farm in Snow Camp for what are called "haycations," in which city and suburban people can spend time on a working farm. Their target market is the Northeast, and Michael Westcott is concerned that when summer arrives and people take vacations, out-of-staters won't come to the state because of the law.
"It casts a negative shadow over North Carolina," he says.