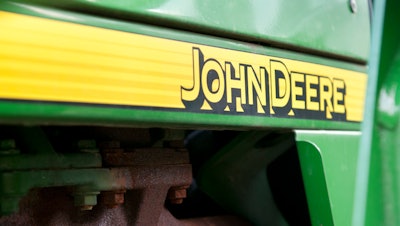 (AP) — Lawyers for John Deere and other farm and heavy equipment managers are taking their case to the U.S. Supreme Court following a state court decision that rejected most of their challenges to New Hampshire's Auto Dealers Bill of Rights law.
The law, signed by Gov. Maggie Hassan in 2013, was expanded to include manufacturers of tractors and yard and garden equipment. Hassan said it leveled the playing field between manufacturers and dealers, but a judge barred it from taking effect after Deere and others filed suit.
Those manufacturers say the law looping them into protections designed for automobile and truck dealers unconstitutionally interferes with their equipment dealer contracts. They said they were improperly lumped in with auto manufacturers. The state Supreme Court rejected most of their arguments in December.
The manufacturers asked the U.S. Supreme Court last week to halt enforcement of the law so they can petition the court to review their case by the end of March.
"The equipment industry does not operate in the same way as the motor vehicle industry," lawyers for the manufacturers wrote. "It sells different products for different uses to different individuals and entities, and it contracts differently with its distributors and dealers."
The lawyers say the New Hampshire Supreme Court's decision "raises critical questions about the standard to apply in a contract clause analysis." They also say the law will terminate the manufacturers' dealership agreements, creating "substantial uncertainty" in the marketplace.
The state had argued that the law is a merger of regulations that dealt separately with automobile manufacturers and farm and tractor manufacturers. It bars manufacturers from terminating contracts with dealers without just cause, limits mandatory upgrades to facilities and requires proper reimbursement for warranty work done by dealers.