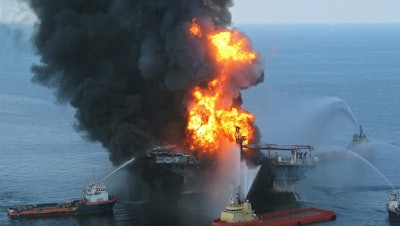 Closing arguments are set to begin Thursday in the trial of a former BP engineer facing a federal pollution charge in connection with the 2010 Gulf of Mexico oil spill.
The trial began last week for Robert Kaluza. He faces a single charge of violating the Clean Water Act. Prosecutors say he and a fellow rig supervisor, Donald Vidrine, botched a pressure test and missed clear signs of trouble before the explosion aboard the Deepwater Horizon offshore oil rig.
The April 2010 blast sent millions of gallons of oil spewing from the Gulf floor for weeks.
Kaluza and Vidrine once faced manslaughter charges in connection with the deaths of 11 workers on the rig. But federal prosecutors later backed away from those charges. Vidrine pleaded guilty to the Clean Water Act violation.
Prosecutors have recommended no prison time and 10 months of probation for Vidrine. He is set for sentencing in April.
He testified for the prosecution early in the trial, telling jurors that Kaluza never gave him information that prosecutors say was critical. The information dealt with a test meant to show whether two cement plugs, other structures and drilling mud below the ocean floor could stand up to the pressure of oil and gas farther down.
Kaluza's is the latest in a series of criminal prosecutions arising from the disaster.
In terms of individual criminal responsibility for the spill, only four mostly lower-ranking employees faced charges, and those cases unraveled before skeptical jurors and judges — resulting in plea bargains for lesser offenses or acquittal.
The government did secure a landmark criminal settlement and record civil penalties against the corporation, which BP said would cost it billions of dollars.