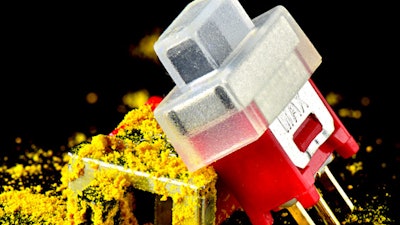 knitter-switch
knitter-switch (Germany) has announced a new sealing cap for slide switches. Slide switches, compared to pushbutton or toggle switches, cannot be sealed against environmental influences inside the switch, according to the company.
This new cap compensates for this handicap, and is designed for devices used in polluted surroundings or mobile devices used in alternate environments.
The new ET MSSE1 sealing caps are accessories for the slide switch series MSSE 1, which has a range of professional and consumer applications. The cap protects the switch from dust and moisture.
Samples are available on request.
For more information, visit www.knitter-switch.com.