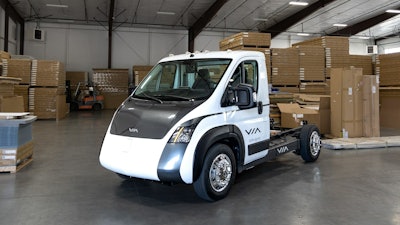 Ideanomics
Ideanomics announced that it has completed its acquisition of VIA Motors (VIA), a U.S. based all-electric commercial vehicle manufacturer.
Ideanomics and VIA will begin collaboration to pair VIA's electric work trucks with Ideanomics Energy's turnkey charging solutions. As part of this, Ideanomics Energy will become the preferred charging solutions provider for VIA, enabling customers to unleash the full potential of their new VIA work trucks with AC and DC chargers, advanced wireless charging, and containerized charging. Additionally, Ideanomics and VIA will explore potential opportunities to use VIA's VDRIVE skateboard with non-competing OEMs.   
VIA's value is rooted in its VDRIVE electric skateboard and VTRUX modular vehicle portfolio, which has been designed from the ground up to meet the needs of commercial fleet operators and drivers. VIA will offer a full range of fit-for-purpose configurations with its chassis cab including last-mile delivery vans, box and stake trucks, school buses and shuttles and more. BloombergNEF projects that more than 1 million battery-electric light and medium commercial vehicles will be on the road in the U.S. by 2030.
VIA will join Ideanomics Mobility, one of the company's three strategic verticals. VIA CEO Bob Purcell and VIA's management team, with decades of automotive industry experience and expertise, will continue to lead the company.
Ideanomics and VIA are positioned to move at pace to deliver. Since June of 2021, Ideanomics has provided financing for VIA's technology research and development, facility expansion, and hiring of additional staff to enable full OEM capabilities. As a result, VIA has secured initial orders and established a co-development partnership with EAVX, a business unit of JB Poindexter & Co., to develop a fully electric class 2b delivery van.
As part of Ideanomics, Energica, Solectrac, US Hybrid and WAVE have been transformed from promising startups to leading companies in their respective market segments; Ideanomics' objective is to create the same success at VIA.   
With VIA Motors, Ideanomics rounds out its offering as a customer-centric EV and charging solutions provider committed to making the transition to commercial electric fleets fast, affordable and easy.  The company's subsidiaries, managed through Ideanomics' three verticals (Ideanomics Mobility, Ideanomics Energy and Ideanomics Capital), provide turnkey commercial electrification solutions for customers, no matter where they are on their electrification journey. With a deep bench of industry experts, Ideanomics provides customers with end-to-end EV and charging support to ensure customers are equipped with the right solutions for their unique needs.