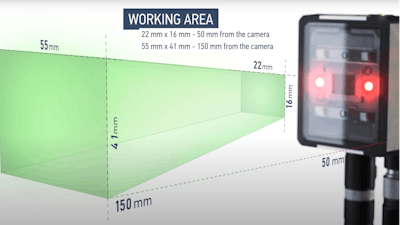 Datalogic
Industrial sensing devices come in all shapes and sizes. There are contacting and non-contacting methods of detecting the presence, position, fill level and other characteristics of products and equipment using various methods. One technology is often the best option for detecting all these conditions in industrial applications—vision sensing.
Vision sensors use a camera system to capture an image, typically of a product, and then analyze it to determine the product's status. Unfortunately, image processing typically requires tremendous computing power, which means traditional vision systems need integration with higher-level computing systems, drastically increasing the cost and complexity of implementation and support.
Advancements in technology have recently changed this situation for the better by making it possible to implement essential vision-sensing technology more easily into smart manufacturing applications of all sizes. Designers should familiarize themselves with the capabilities of the latest intelligent and compact smart vision sensors, which are opening a new range of possibilities.
Vision basics
A common photoelectric (PE) sensor is perhaps the most basic type of "vision" device used to sense the presence or absence of a target in front of it. However, a more capable device would be a full-blown camera connected to a higher-level computing system. Slotted between these two extremes is a new category of vision device, more flexible than a PE sensor yet less complex than a camera.
New smart vision sensors are packaged in a compact form factor smaller than 80x50x40mm depending on electrical connector orientation so that they can be conveniently installed in the tight confines of any application. Both the housing and the electrical connectors provide IP65/IP67 protection, far more robust than a typical camera, ensuring that the device can withstand the standard wet or dirty conditions in many manufacturing scenarios. They operate at industry-standard 24VDC and provide common NPN and PNP switching outputs for "data valid," "good," and "no good."
"Working area" defines the overall dimensions within the smart vision sensor detection area. In this case, the depth of field ranges from 50mm to 150mm from the face of the sensor, adjustable using integral electronic focus control, with a 19-degree viewing angle. This range is generous and works well with most kinds of material handling used to align and orient target products (Figure 1).
Another consideration is that vision systems need good light to "see." For example, cameras often require external light sources arrayed to illuminate the target, which adds to design complexity and installation cost. But smart vision sensors can incorporate polarized white light sources on the device to provide light right where needed.
Communication and configuration
A standard PE presence detector requires only minimal setup and basic on/off wiring. Full-blown camera array systems with PC supervisory software are exponentially more complex, can cost tens of thousands of dollars or more, and require skillful configuration.
Smart vision sensors, however, provide many of the most-needed vision benefits combined with ease of use, and no machine vision skills are required for design, installation, setup and support. Extensive processing capabilities and machine learning-assisted setup are built into the smart vision sensor.
While these sensors can't read and interpret barcodes or QR codes, they can be used to provide pass/fail indication for situations like:
Detecting if a label is applied or missing.

Verifying if a cap is installed and aligned correctly or missing.

Identifying whether the product color is correct or off-specification.

Confirming the fill level in a container is proper or not.

Checking part orientation for pick and place systems.
Using a single button onboard the device, users can perform a quick and easy "teach-in" procedure to acquire and train up to four "good/pass" and four "no-good/fail" images. In addition, four different "jobs" can be configured so that the sensor can be used in multiple roles. The sensor also incorporates Ethernet with an intuitive web server graphical user interface for maintenance and job setting (Figure 2).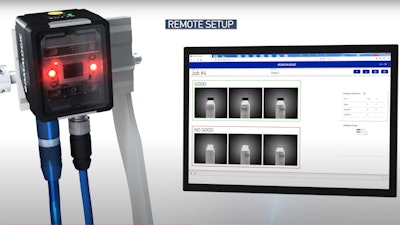 If the vision sensor is installed close enough to see the target, and if the target is moving at a reasonable speed, the sensor will perform advanced detection in a deterministic manner and respond with a simple pass/fail signal so the associated control system can take action.
Elegant vision sensing made easy
Machine vision sensing is a powerful tool with many fundamental uses throughout food & beverage, pharmaceutical, bottling, material handling, and other industries. However, until recently, vision systems have been costly, with specialized talent required for configuration.
Modern smart vision sensors harness the power of machine learning to deliver many of the benefits found in much more complex and expensive vision systems, with nearly the ease of setting up a simple photoelectric device. Moreover, considering that these vision sensors are a fraction of the cost of large camera array systems, they are making it practical to incorporate useful vision sensing in a greater amount of machine and automation applications.
About the Author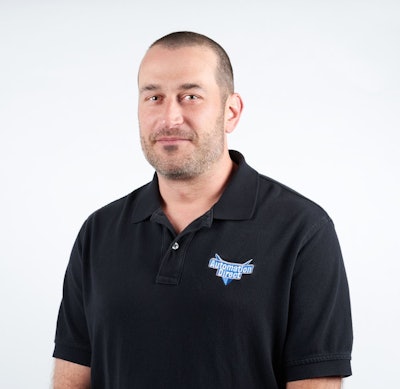 Kevin Kakascik is a Technical Marketing Engineer at AutomationDirect. Over his 20-year career, he has held controls engineering positions for machine OEMs, entertainment industry systems integrators, and material handling systems integrators, where he estimated, designed, commissioned, and started up systems. Kevin has worked at AutomationDirect since 2013 in technical and marketing roles. He holds a bachelor's degree in Computer Science and Engineering Technology and an associate's degree in Electrical Engineering Technology.