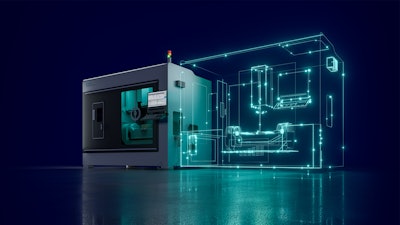 Siemens
Siemens demonstrated how the enormous potential for optimizing machine tools can be utilized, thanks to the continuous analysis of production data. With the open digital business platform Siemens Xcelerator, IoT-enabled hardware and software, the company demonstrated how the physical world can be connected to the digital world.
Such a portfolio accelerates digital transformation and enables flexible and sustainable action both in the building of machine tools and in use.
Apps for the machine tool business with Siemens Xcelerator
Siemens recently launched an open, digital business platform called Xcelerator. The company seeks to enable customers of all sizes in the fields of industry, buildings, power generation, public utilities and mobility to accelerate their digital transformation and increase value creation.
The business platform makes digital transformation easier, faster and scalable. It comprises three cornerstones — a curated portfolio of internet of things (IoT) enabled hardware, software and digital services from across Siemens and certified third-parties; a growing ecosystem of partners; and an evolving marketplace to facilitate interactions and transactions between customers, partners and developers.
With applications such as Manage MyResources/Tools, Manage MyResources/Programs, Analyze MyPerformance/OEE, Manage MyMachines, Manage MyMachines/Remote and Analyze MyMachine/Condition, as well as the Industrial Edge for Machine Tools platform, Siemens also provides offerings for machine tools via Siemens Xcelerator, both for the machine builder and CNC machine users.
Numerous innovations for machine tool apps
In the area of work preparation, Siemens presented several innovations at IMTS in Chicago this year for the applications Manage MyResources/Tools, Manage MyResources/Programs and Analyze MyPerformance/OEE.
The apps provide intelligent resource management that allows production orders to be prepared smoothly by providing the right tools and NC programs. A central solution at the manufacturing level manages real instances of tools, tool locations and programs for parts production, using the data from the CNC.
Workflows in machining environments are optimized, tool circulation and tool inventory are efficiently organized.
The utilization of production capacities can be improved by analyzing overall equipment effectiveness (OEE). All three applications offer innovations, for example, with broader connectivity even for CNC machines that are not equipped with Siemens SINUMERIK CNC.
This means nothing stands in the way of a shopfloor-wide connection of machines to resource management.
In addition, Manage MyResources/Tools can now provide further valuable insights into tool usage, such as the duration of the different life phases for certain tool types.
Also new is the possibility of more efficient tool planning with reservation of tools for a machine or production order or as a standard tool. With the help of unloading lists for balancing, the planning of tool requirements will become even more efficient in the future.
For Manage MyResources/Programs, additional use cases can now be covered by the possibility to add additional file types such as drawings to NC packages. In Analyze MyPerformance/OEE, machine status can now be configured individually.
In addition, the app provides detailed insights into workpiece statistics and production progress.
For the monitoring of CNC machines during operation, Siemens presented innovations for the already available apps Manage MyMachines, Manage MyMachines/Remote and Analyze MyMachine/Condition at IMTS.
These apps analyze the data generated during workpiece machining, which can then be used to improve maintenance planning. Unexpected changes, for example, in machining performance or vibration, indicate disturbed processes.
In the new version of Manage MyMachines, it is now possible to examine reports of technical faults even more closely. Also new is the now seamless transition between the two apps Manage MyMachines and Manage MyMachines/Remote, which further improves the user-friendliness and efficiency of service calls. Manage MyMachines is now also available with broader connectivity, which supports machine controllers from other manufacturers.
Open Siemens Industrial Edge for the Machine Tool ecosystem
Siemens' openness to partners is demonstrated by the Industrial Edge for Machine Tools ecosystem. Based upon the Siemens Edge Platform, Schunk, the global manufacturer of gripping systems and clamping technology, developed its iTendo Service. By combining sensor data from the tool tip and data from the NC, Schunk wants to help machine tool operators improve the machining process and prevent tool breakage.