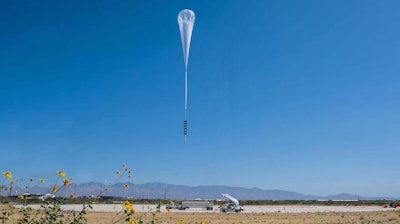 Infleqtion/World View
Infleqtion, the global quantum ecosystem provider, and World View, a company specializing in stratospheric exploration and flight, today announced a partnership that provides faster, more cost-effective quantum application testing using Infleqtion's compact quantum technology and World View's patented stratospheric balloon systems.
This method of stratospheric testing represents a new era of quantum testing required for applications such as over the horizon communications, precision navigation and timing, and hyperspectral sensing. Infleqtion and World View will continue to collaborate on new solutions to potential defense, commercial, and public sector customers.
"Quantum sensing is here today, and capable of making communications, navigation and timing systems better," said Dr. William Clark, Vice President of Quantum Development, Infleqtion. "Our collaboration with World View allows us to test our next generation quantum sensors in operationally relevant environments, from near earth to the edge of the atmosphere."
Quantum sensors offer significant opportunities for almost every industry, greatly improving technological devices through increased efficiency, accuracy and navigation abilities. In particular, radio frequency (RF) devices are poised to significantly benefit from quantum sensing, as this increased accuracy helps cut through busy RF signal zones.
"Both Infleqtion and World View are driving next generation technologies - in quantum and stratospheric exploration," said Matteo Genna, President, Remote Sensing, World View. "Just a decade ago, these technologies would have appeared to be science fiction. Today, these collective capabilities will address many challenges of our modern world. I am excited about the potential of our partnership."