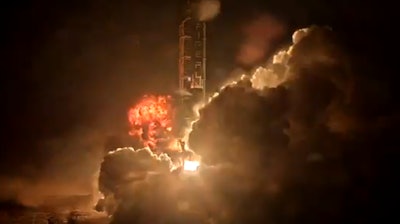 Firefly Aerospace
Based in Cedar Park, TX, Firefly Aerospace develops lower-cost launch vehicles to provide greater access to space.
The company has a 200-acre manufacturing and test facility in Briggs, Texas, about 27 miles north of its headquarters.
On Wednesday, the company's test engineers were conducting the first in a series of propulsion tests to verify design and operation. The hotfire test was a short, five-second firing of the company's Alpha launch vehicle's four Reaver engines.
When the engines ignited, a fire broke out in the engine bay at the base of the rocket's stage (flames on the left of the video).
According to Firefly Aerospace, the system immediately shut itself down and the fire was extinguished by an automatic ground fire suppression system.
The team is now performing a root cause analysis to see what caused the anomaly. A photo posted by the company showed the aftermath on the charred platform.
The company plans to share the results of its investigation once it is complete.
In a Facebook post, the company said, "Firefly is committed to workplace safety, and at no time during the test were Firefly operations personnel or the public in danger. Firefly is coordinating closely with local authorities and emergency response personnel as it investigates the anomaly and refines its contingency procedures."
According to the company, the test was conducted at 6:23 pm.