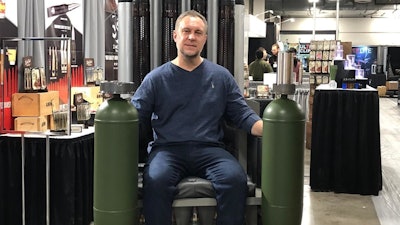 Lucky Shot USA
Lucky Shot USA is a family owned and operated company that designs, manufactures and imports firearm-themed novelty gifts, everything from shell casing valve stem covers for your car to .50-caliber bullet bottle openers. The company even has a line of "bulletproof" glassware similar to the products made by BenShot.
This week, at the 2020 SHOT Show, the Orlando-based retailer unveiled the Freedom Throne, a $17,800 chair made of multiple shell casings and projectiles -- even a pair of bombs.
According to the company, the eight-foot-tall throne was designed and produced in the United States using a "regiment of artillery rounds and bombs fired or dropped by some of the most badass cannons, tanks, bombers and Navy destroyers."
The Freedom Throne is made of:
Nine 105mm howitzer shell casings
Five 105mm howitzer projectiles
Four 106mm recoilless rifle shell casings
One 120mm Abrams tank shell casing
Five 5" Navy Destroyer shell casings
Two 100-pound practice bombs
Given the rarity of the components used to build the throne, some of which date back to the Vietnam War, Lucky Shot founder and CEO Doug Ingalls says the company will only manufacture four thrones.
Lucky Shot will donate 20 percent of throne sales to Wounded Warrior Outdoors.