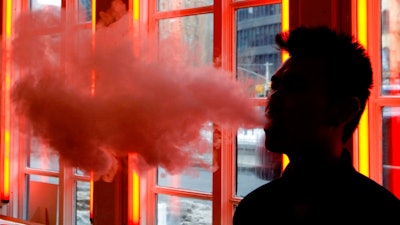 AP file
A Texas man died has after the e-cigarette he was using exploded and tore his carotid artery.
24-year-old William Brown was taken to a Forth Worth hospital after the incident, which occurred in the parking lot of a store that sells vaping products. Brown reportedly died of a massive stroke that occurred after debris from the explosion became lodged in his throat.
According to the report, he was rushed to the hospital after the January 27th explosion and placed in a medically induced coma. He died two days later.
An exploding e-cigarette also claimed the life of 38-year-old Tallmadge D'Elia in May of 2018. The cause of death was ruled as "a projectile wound to the head."
While the U.S. FDA says that explosions of vaping products are rare, it does call the explosions "dangerous" and offers tips to help avoid them.