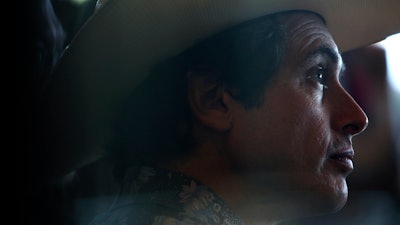 Yalonda M. James/The Commercial Appeal via AP
NEW YORK (AP) — While one Musk was on the verge of announcing the first private passenger to travel to the moon while separately fending off a lawsuit accusing him of defaming a British diver, another Musk was talking about growing basil plants at an indoor garden in Brooklyn.
Kimbal Musk, who serves on the board of older brother Elon Musk's companies Tesla and SpaceX, spoke at a breakfast in New York Monday about the promise of urban farming and his mission to bring locally-sourced food to restaurants and provide gardens to schoolchildren around the country.
But although he has made a name for himself in the food industry building a chain of restaurants and planting 500 "learning gardens" in schools nationwide, he still finds himself deflecting questions about his billionaire brother.
It's difficult to keep track of the many publicity disasters that have been touched off in recent months by Elon Musk's pronouncements and accusations on Twitter. He berated Wall Street analysts who questioned his company's finances on a conference call. He announced on Twitter that he was considering taking Tesla private, only to do an about-face. And then there was the recent podcast where he appeared to be smoking marijuana in a far-flung philosophical interview touching on everything from improving the safety of self-driving cars to the dangers of artificial intelligence, sending Tesla stock to its lowest point in months.
On Monday, he was in the news again for two very different reasons: his plans to identify the first private passenger to go on a trip around the moon and back aboard a SpaceX rocket, and a defamation lawsuit filed against him by a British diver involved in rescuing a youth soccer team trapped in a Thai cave, whom Musk referred to as a pedophile on Twitter.
Contrast that to Kimbal Musk's tweets: photos of children chopping cauliflower, sunny pics of a field of radish greens and lush avocado slices on a plate, and comments like "Amazing! Go bro! Well done team" in response to Tesla's sales reports.
Earlier this summer, an investment group pushed to remove Kimbal Musk and others from Tesla's board, which has remained largely silent through the company's ongoing problems. That has raised questions about the independence of the board, several of whom have personal or business ties to Elon Musk.
Asked at Monday's breakfast, hosted by Yahoo Finance, about how he balances his brotherly relationship and his duty as a board member, the younger Musk had only positive things to say.
"I trust my brother's vision," he said. "He is amazing. I'm biased, but I think he's the greatest entrepreneur of our day."
Relaxed on stage in his ever-present cowboy hat, he redirected the discussion when asked about his older brother's troubles, talking about Tesla's focus on delivering vehicles and appearing to listen to his own internal editor in a way that Elon Musk doesn't.
When asked after the event whether his brother's behavior had any impact on his own business ventures, Kimbal Musk said no.
"I'm helping out a lot more with Tesla deliveries, so it takes a little bit of my time away, but the Model 3 is amazing and we just have to get it out to as many customers as possible as fast as possible," he said, referring to Tesla's first mass-market electric car, which has been plagued with production issues.
When asked whether his brother's recent behavior was a departure from the guy he knew growing up, Kimbal Musk paused and told his publicist, "We need to head out." He then added, "I think we just focus on deliveries, and he is super focused on that. I think that's where we are today, and we're going to keep doing it."