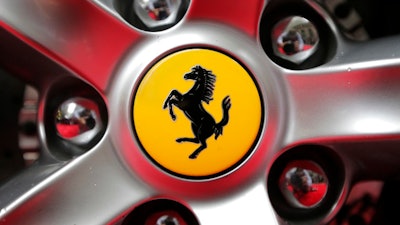 AP Photo/Seth Wenig, File
MARANELLO, Italy (AP) — Sportscar maker Ferrari is blazing its trail under new leadership on limited edition cars based on iconic models of the past, unveiling Tuesday the first in the Icona special series billed as the most-powerful road car in the company's history.
Ferrari presented its Monza SP1 and SP2 sportscars — based on the classic open-top "barchetta" racing model of the 1940s and 1950s with revved-up Formula 1 technology — on the day that the new CEO, Louis Camilleri, was outlining a 5-year business plan. Camilleri took over in July after the unexpected death of CEO Sergio Marchionne, who had long anticipated his plans to transform Ferrari into a luxury goods company that focuses on high-end consumer products beyond cars.
Chairman John Elkann expressed sadness at Marchionne's sudden death, saying "he loved everything about Ferrari" and had been "looking forward to spending more time here in the coming years after his planned retirement next year from FCA," the mass-market carmaker Fiat Chrysler Automobiles.
Elkann said that Camilleri "understands perfectly the significance of our heritage ... to the success of the plans presented today."
Ferrari said that fewer than 500 of the Monza SP sportscars will be produced and sold only to eligible Ferrari customers, whose preferences will define the mix of one- and two-seat models.
The open-cockpit Monza SP sportscars are "probably the closest and purest driving experience to the Formula 1," said Nicolo Boari, the head of product marketing. He said that the engine was "the most powerful ever in Ferrari history," boasting 810 horsepower able to reach 100 kilometers per hour (62 mph) in 2.9 seconds and 200 kilometers an hour in 7.9 seconds.
Providing a glimpse of Ferrari's broader plans to expand its luxury profile, buyers of the Monza SP series will receive a racing jumpsuit designed by Italian high-end luxury brand Loro Piana that will also help protect the drivers against the elements. Italian leather maker Berluti is also making a leather-clad helmet-goggle combo and driving shoes for the brand.