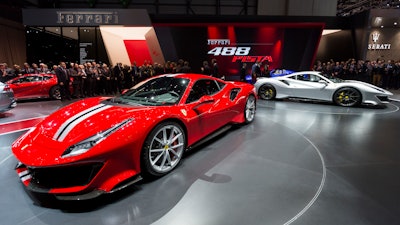 Cyril Zingaro/Keystone via AP
At a presentation as booming and flashy as its cars, Ferrari has unveiled its 488 Pista speedster at the Geneva auto show. It is lighter than its predecessor and has the most powerful V8 engine ever produced by the fabled Italian brand.
Marketing chief Enrico Galliera trumpeted how the 720-horsepower machine weighs 90 kilograms lighter than Ferrari's 488 GTB, includes more carbon fiber, and is 20 percent more aero-efficient.
At Ferrari, image matters a lot — and the automaker blasted out a 110-decibel video of vehicles speeding along a racetrack to convey the power and noise of its vehicles, sending powerful vibrations through the rubbernecking audience and shaking the floor of the cavernous Geneva showroom.
Galliera noted the importance of "exhilarating sound" at Ferrari, "which always represents part of the emotion of driving a Ferrari."
He said the Pista rounds out the Ferrari product range, which he considers the company's most effective yet.