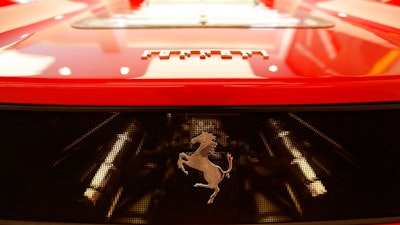 AP Photo/Caroline Spiezio
MILAN (AP) — Ferrari's chief executive told investors Wednesday that the luxury sports car maker will look at building a crossover utility vehicle, but promised any model it produces would be unique and not compromise the brand's exclusivity.
CEO Sergio Marchionne has in the past colorfully disavowed Ferrari entering the utility vehicle segment. During the 90-minute investor call, analysts, one after the other, cautioned Marchionne about tarnishing the Ferrari name.
Marchionne tried to assuage them.
"The answer is, it probably will happen, in Ferrari style," he told analysts. "Ferrari has been known historically to be able to redefine and define segments of the auto space. "
The utility vehicle segment "is too big and it's too inviting" the CEO said.
"And I think that we have a lot of our customers who will be more than willing to drive a Ferrari-branded vehicle that has that kind of utilitarian objective," he added.
Ferrari would not be competing with Porsche's Cayenne or the SUV Lamborghini expects to unveil this year if it enters the utility vehicle arena, Marchionne said.
If Ferrari developed a car that looked like "either a BMW or even a Bentley SUV, I think I would deserve to be shot," he said in a twist on comments made during previous analyst calls that appeared to all but rule out a Ferrari SUV.
Marchionne has said he wants to transform Ferrari into a luxury goods maker, leveraging the brand into adjacent product lines. Luxury leather wear and apparel makers can see margins of 36 percent or more at the upper echelons.
The CEO said he would provide details on those plans during the first quarter of 2018, along with additional details on future models and the role of the Formula 1 team in the overall strategy.
The brand has protected its exclusivity by limiting the number of vehicles it produces each year and launching limited-edition cars for hard-core, loyal customers, like the La Ferrari.
Marchionne has edged those numbers up from 7,000 vehicles to over 8,000, while analysts see a natural ceiling at 10,000. After that point, Ferrari would lose preferences on emissions caps afforded small manufacturers.
But Marchionne said there were ways for Ferrari to deal with those issues should it push up production.
"Don't think 10,000 cars is the end of the world. It isn't," he said.
The investor call came after Ferrari reported its second quarter financial results on Wednesday. It saw a 39 percent rise in second quarter profits as deliveries continued to grow.
Ferrari, which spun off last year from its mass-market parent Fiat Chrysler, said net profit for the three months through June was 136 million euros ($161 million), from 97 million euros in 2016.
Ferrari said the result was boosted by higher sales volumes, up 5 percent to 2,332 vehicles, as well as personalization options on its luxury sports cars.
The group confirmed a 2016 outlook for shipments of around 8,400 units with operating profit above 950 million euros on more than 3.3 billion euros in revenues.
Ferrari shares dropped 2.2 percent to 90.75 euros in Milan, offsetting a rise this week before the earnings and after the Ferrari Scuderia Formula 1 victory.