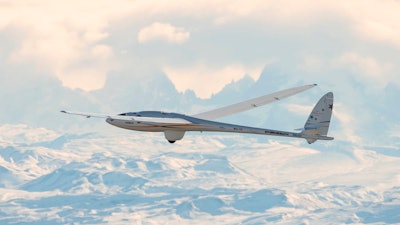 James Darcy/Airbus
LAS VEGAS (AP) — Pilots with a Nevada glider team have flown to new heights above the Andes Mountains in Argentina using only wind as their engine.
An experimental sailplane built by a Perlan Project team set an unofficial world altitude record for engineless flight on Sunday, then broke that record by more than a half-mile (0.8 kilometers) two days later, the Las Vegas Review-Journal reported.
Pilots Jim Payne and Miguel Iturmendi flew the Perlan 2 aircraft to 63,776 feet (19,439 meters) on Tuesday, 3,107 feet (947 meters) higher than Sunday's flight by Payne and Morgan Sandercock.
That's about 3 miles (5 kilometers) above the highest altitude used by commercial flights.
At that altitude, "the sky is starting to get dark" and you can see the curve of the Earth, Payne said. "You get some beautiful vistas from up there."
Payne and Sandercock also own the current official record of 52,221 feet (15,917 meters), which they reached in Perlan 2 above the Andes on Sept. 3, 2017.
It took about two-and-a-half hours for the glider to reach its record-setting altitude.
Payne said Perlan 2 can climb more quickly than that, but these are test flights so they are ascending in stages to determine how the aircraft is performing.
"We're testing just the way the Air Force would," he said.
The glider is designed to soar up to 90,000 feet (27,432 meters), and Payne thinks it might get there some day.
"It's kind of like a cross between a spaceship and an F-16," he said.
Payne and company hope to keep pushing the altitude record higher between now and Sept. 15, when they will wrap up operations and return to the U.S..
Their next flight is scheduled for Sunday, weather permitting.
Perlan 2's altitude record will remain unofficial until it is reviewed and accepted by the National Aeronautic Association and the Federation Aeronautique Internationale, a Switzerland-based equivalent of the Guinness World Records for aviation.
It took almost a year for the Federation Aeronautique Internationale to sign off on the team's 2017 world altitude record.