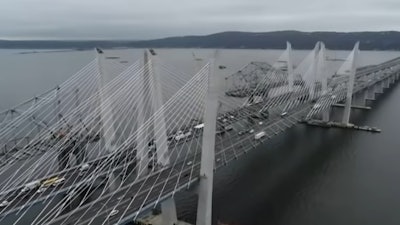 NYACK, N.Y. (AP) — Engineers have recommended to the Thruway Authority that a span of a new bridge named after Gov. Andrew Cuomo's father can open for traffic Tuesday evening, weather permitting.
The second span of the new Mario M. Cuomo Bridge over the Hudson River was supposed to open to traffic on Saturday, but workers disassembling the nearby Tappan Zee Bridge discovered it had destabilized and could fall, potentially hitting the new span.
"After careful evaluation, Tappan Zee Constructors has determined that the old Tappan Zee Bridge east anchor span is damaged but currently stable with certain key components highly stressed," Terry Towle, president and project executive of Tappan Zee Constructors, said in a statement Sunday night.
"While there remains a possibility of the old bridge east span failing, in the event it does, it will fall within a safety zone that does not affect vessel traffic or the structural integrity of the new eastbound bridge," Towle said. "As things now stand, the traffic switch has been scheduled for Tuesday evening, weather permitting."
Cuomo called the timing of the safety issues on the old bridge, arising just before the new span was to open publicly and mere hours after the grand opening ceremony, a "bizarre coincidence." Meanwhile, his opponents in the campaign for New York governor questioned whether the new bridge opening had been accelerated for political reasons in advance of Thursday's upcoming primary election.
Cuomo, a Democrat, pointed out that the problem wasn't with the new bridge, which the state controls, but with the old bridge, which it doesn't.
"This has nothing to do with the new bridge, zero, it's all about the old bridge," he said at a news conference.
The nearly $4 billion Mario M. Cuomo bridge links Westchester and Rockland counties 30 miles (50 kilometers) north of New York City, and replaces the old Tappan Zee Bridge, which opened in 1955. The first span of new bridge opened last year and currently carries Interstate 87's eastbound and westbound traffic. Eastbound traffic was to be fully shifted to the second span Saturday morning.
The Tappan Zee is in the process of being demolished. On Friday, a piece of it became destabilized during the process of being disassembled, raising concerns that if it fell, it could hit the new bridge span and cause a public safety issue.
Cuomo's opponent in the Democratic primary, actress Cynthia Nixon, questioned the timing of the bridge's opening in a statement Saturday. "There are real, reasonable questions about whether this bridge span opening was accelerated to aid the governor's campaign," she said.
On Sunday, Republican Marc Molinaro, who will face the Democratic primary winner in the November general election, called for an investigation by the National Transportation Safety Board.