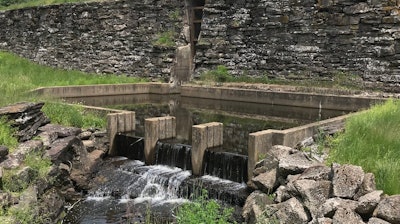 Eric Deabill, @ericdeabill
HONESDALE, Pa. (AP) — County officials have won an injunction to hold off demolition of part of a 19th century northeastern Pennsylvania dam.
A Wayne County judge on Friday granted a preliminary injunction sought by the county to bar the state from demolishing a 150-foot section of the Hankins Pond Dam pending a Sept. 19 hearing.
Built by the Delaware and Hudson Canal Co. in the 1830s, the 1,000-foot-long dam was breached and the impoundment behind it drained in 2013.
But state engineers still consider it a high-hazard dam because water could build up behind the structure during a major flood and endanger lives and property downstream.
So, state officials plan to demolish 75 feet on either side of the existing outlet. For months, the county has been seeking an alternative to demolition.