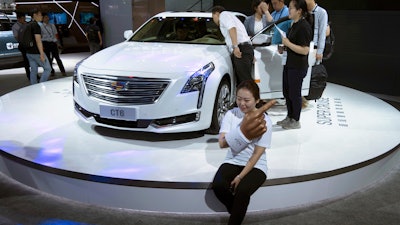 AP Photo/Sam McNeil
BEIJING (AP) — President Donald Trump is poised to hike the prices of Chinese-made technology products that might include flat-screen TVs and ultrasound machines for American buyers.
They could be among tech imports worth up to $50 billion on which Trump is preparing to slap 25 percent tariffs in response to complaints Beijing steals or pressures foreign companies to hand over technology.
The White House has yet to release a final list of products. A tentative version in April ran the technology gamut from TVs and telecoms equipment to medications and industrial chemicals.
It would be the first direct impact on American consumers of the dispute over a state-led technology development strategy the White House says violates Beijing's free-trade commitments and hurts foreign competitors.
More than a routine trade dispute, it reflects Washington's unease that American technology leadership and prosperity might be eroded by China's state-led efforts to compete in smartphones, electric cars, biotech and other fields.
Economists and businesspeople say Beijing is unlikely to give ground on a strategy seen by communist leaders as the path to higher incomes and to restoring China's rightful role as a global leader.
What is the Dispute?
U.S. officials say the tariff hike targets goods that might benefit from Chinese theft of technology or pressure on foreign companies to hand it over in exchange for market access.
They point to plans stretching back two decades that call for state-led development of Chinese competitors in artificial intelligence, clean energy, electric cars, robotics, biotech and other fields. Foreign companies complain Beijing subsidizes fledgling Chinese developers and shields them from competition in violation of its free-trade commitments.
Trump is hardly the first foreign leader to complain. Others have filed World Trade Organization complaints or lobbied Chinese leaders in person during visits to Beijing. But Trump has attacked head-on, threatening to disrupt Chinese exports.
Targeted Goods
In addition to TVs and medical equipment, the tentative list in April included bakery ovens, power generators, cassette players, electric motors and video cameras.
That could hurt emerging Chinese global brands including Huawei in telecoms, Mindray in medical equipment and Hisense in TVs.
Business groups warn the tariffs are effectively a tax on American consumers, though the American Chamber of Commerce says Trump's threat prompted Beijing to engage in more intensive negotiations than it has in years.
Made in China 2025
U.S. officials cite Beijing's long-range development strategy, dubbed "Made in China 2025," as emblematic of tactics they say hamper competition and will hurt American competitors.
It calls for creating Chinese global competitors in information technology, numerical control machinery and robotics, aerospace and aviation equipment, maritime engineering equipment and high-tech vessel manufacturing, advanced rail equipment, energy-saving and electric vehicles, electrical equipment, agricultural machinery, new materials and biopharmaceuticals and medical devices.
Foreign business groups have complained for a decade Beijing is squeezing them out of promising fields. They say "Made in China 2025" appears to leave them little or no place in those industries.
Previous technology plans since the 1990s have targeted even broader areas including nuclear power, genetics, deep sea equipment, satellites and lasers.
Goods Facing Retaliation
China announced a $50 billion list of goods in April including soybeans and light aircraft for possible retaliation, though it hasn't repeated that threat in response to the latest developments from Washington.
April's list of 106 products also includes beef, whiskey and orange juice. That targets rural Trump supporters and reflects Chinese effort to minimize losses by picking goods available from other suppliers.
Soybeans are the biggest U.S. export but other products on the list also are major earners. U.S. aviation-related exports to China totaled $13.2 billion in 2016.
It was unclear whether Beijing might try to make an exception for Chinese-owned U.S. exporters such as pork producer Smithfield Foods.