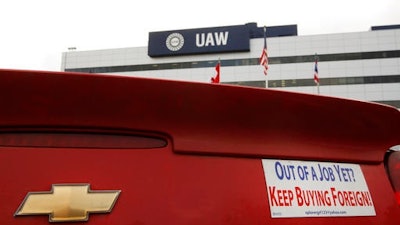 AP file
United Auto Workers President Dennis Williams cautiously backed the U.S. decision to explore raising tariffs on imported vehicles.
He says Thursday that the nation should have looked at them long ago because it has become a dumping ground for foreign companies that sometimes are subsidized by governments.
"I welcome the fact that they're investigating this and they're even considering the tariffs, if they need to be done. But I'm often cautious about tariffs, because we do do some exporting as well in the agricultural and other fields," Williams told reporters in Detroit.
"I think the American workers have been handed a short stick for a long, long time when it comes to trade."
Williams pointed out China, Mexico, Taiwan, Vietnam and others as offenders. "We've got to look at it and say, 'OK, what is the effect of that? And does it really help us? Or, how does it affect us?'" he said.
The Trump administration is exploring whether tariffs are needed on auto imports, a move that comes as trade talks with Canada and Mexico have stalled.