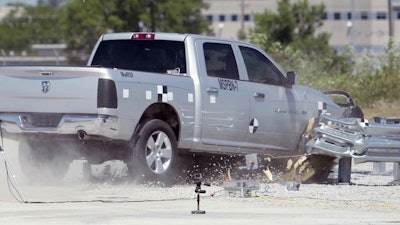 Eric Gregory/Lincoln Journal Star via AP
LINCOLN, Neb. (AP) — A University of Nebraska-Lincoln engineering team is testing an improved highway safety device to ensure it meets new safety standards the university experts helped write (view photos in gallery).
Engineers are deliberately crashing cars, pickups and tractor-trailers into guardrails and barriers found along highways nationwide at the Midwest Roadside Safety Facility's outdoor proving grounds at Lincoln Airport. The team conducted its seventh test of an improved bullnose guardrail on Tuesday, the Lincoln Journal Star reported .
Bob Bielenberg, a researcher at the university's facility, said the guardrail is designed to buckle under a vehicle's force. The snapped wooden beams and folding corrugated-steel rails bring a runaway vehicle to a relatively safe stop, he said.
"We want the system to break away, bend and deform to absorb all the impact energy," said Jim Holloway, the test site's director.
The Midwest Roadside Safety Facility bases its tests on reconstructions of actual crashes, Bielenberg said. The testing accounts for up to 95 percent of all highway guardrail impacts, he said.
Engineers keep vehicles at speeds within a tight range near 62 mph and impacts at angles within 25 degrees of the vehicle's nose, which covers most of what is seen on the side of the road.
The team made changes to the guardrail after a test failed in April when a lower-profile car slid underneath a pair of cables that reinforce the corrugated rails.
"We took that test and added a third cable even lower to prevent that from happening," Bielenberg said. "We've conducted several successful tests since then."
The university plans to communicate its research results to transportation departments across the region so that state officials can make more informed decisions about road safety.