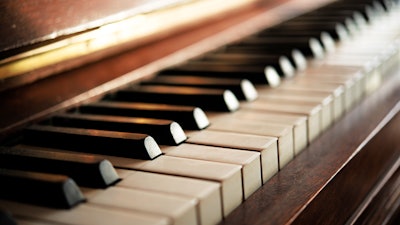 GOLIAD, Texas (AP) — Out in the Goliad County countryside, the opening light and fleeting notes of Robert Schumann's "Arabesque" recently filled the living room of Regi Hedahl's home.
The Victoria Advocate reports Hedahl used the musical piece to demonstrate the action, or mechanics, of the piano keys of a 1920 Baldwin baby grand he rebuilt several years ago.
"Pianos are like cars — they get worn out," Hedahl, 40, said. "Just like cars, pianos need to be serviced."
Hedahl has had his business, Lone Star Piano Tuning & Rebuilding, in the Crossroads for about 10 years. He's serviced dozens of pianos in the area and has tuned thousands of strings in the state.
The former electrical engineer is one of several piano tuners in the Coastal Bend, but Hedahl is one who attracts clientele from Houston down to the Rio Grande Valley.
Hedahl started playing the piano when he was 6 years old and found the mechanics of the instrument fascinating, he said.
A Cal Poly Pomona graduate, his interest in engineering spans more than just the electrical and technical field. He uses his interest in mechanics and his musical background to tune pianos to a high standard and to his customer's preference.
Pianos, Hedahl said, need consistency. That consistency includes the environment of the instrument because humidity can affect the strings and the soundboard, which can change the tone or pitch of the notes. Or worse — break parts of the instrument.
"Depending on how long it has been since the last time the piano was tuned, it may take me an hour or more," Hedahl said.
Rudy Dennis, of McAllen, has been a client of Hedahl for a little more than a year. Dennis, who has a doctorate in music performance from the University of Washington, bought his wife a $130,000 handmade Austrian piano several years ago.
Dennis describes the shiny, black, grand Bösendorfer piano as the "Rolls-Royce" of pianos and says that Hedahl is one of two people he trusts in the country to service the instrument.
"Someone like Regi (Hedahl) is extremely rare — to have someone with such intellectual curiosity," he said. "He approaches the instrument from both a scientific and musical perspective, and it's hard to find someone like that. Having someone like Regi is a gift to the area."
Hedahl also rebuilds pianos. His eight-room country home has about 50 pianos of various sizes, ages and conditions. Some of the pianos Hedahl rebuilds are from customers, while others he found online or from owners who no longer wanted the piano.
To rebuild a piano from scratch can take several months, Hedahl said. The most difficult part is the action, or the mechanics of the keys, he said. The keys have to be placed in the piano evenly and can't be too hard to push down or too light.
"There's not much magic to building a piano, but there is a lot of aspects to rebuilding," he said. "You have to rebuild it and put it back together the same way it was made."
Hedahl has repaired Steinway & Sons pianos, which are high-end pianos, as well as vintage Chickering & Sons, an American brand of pianos that was established in 1823.
It's Hedahl's work ethic and knowledge that has made him the go-to tuner for Western Hills Baptist Church in Victoria, said the Rev. Roger Parrish.
The church has had a baby grand piano since 2009, and Hedahl has been the only one to tune the instrument, Parrish said. Hedahl does such a great job, Parrish said, that church members recommend Hedahl to anyone with a piano.
"He is very talented and knowledgeable," Parrish said. "We've been blessed to have this piano and to have it tuned so well. He's a sharp young man and does a great job."