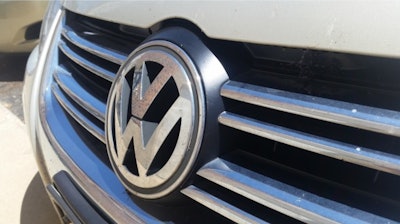 PHOENIX (AP) — Arizona has reached a $40 million settlement with Volkswagen over advertising claims in a nationwide emissions cheating scandal, state Attorney General Mark Brnovich announced Wednesday.
Under the settlement, Volkswagen must pay individual Arizonan consumers who bought or leased qualifying diesel vehicles manufactured by VW, Audi and Porsche from 2008 through 2015 up to $1,000 each for a combined $10.5 million in direct restitution.
Volkswagen will also pay $20 million for state public education funding, with any remaining money to be used for legal costs and other future fraud investigations.
The German carmaker said in a Wednesday statement that the deal with Arizona "fully resolves all claims asserted by the state related to the diesel matter and is another important step forward for our company and our stakeholders."
Although its advertising carried claims about clean emissions, the company later acknowledged that the cars were programmed to turn on emissions controls during government lab tests and turn them off while on the road.
The latest settlement ends a lawsuit that Arizona pursued separately from a 2016 multi-state deal of nearly $15 billion, which sought to resolve lawsuits and allegations that Volkswagen's diesel engines cheated on U.S. emissions tests.
Brnovich said Arizona was the first state to obtain direct consumer restitution from Volkswagen through its own litigation.
Arizonan consumers who were affected by Volkswagen's advertising claims about clean emissions can receive payments even if they received other settlement money.
Also on Wednesday, Chispa Arizona, a program of the League of Conservation Voters, called on Arizona lawmakers to reconsider Gov. Doug Ducey's proposal to use $16 million in Volkswagen settlement money from the earlier multi-state deal to balance the state budget.