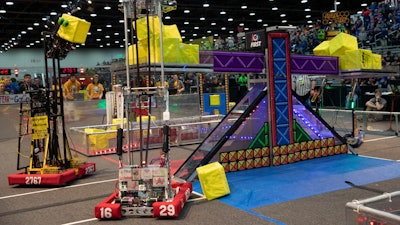 Business Wire
DETROIT -- More than 15,000 students from around the world traveled to Detroit, putting their innovation skills to the test at the annual FIRST Championship Presented by Qualcomm Incorporated, held at the Cobo Center and Ford Field.
The four-day event, attended by more than 40,000 people, came down to a heart-pounding conclusion Saturday night in front of thousands of cheering fans at Ford Field when teams competed in match finals for the FIRST Robotics Competition and FIRST Tech Challenge world championships.
"We're marking the culmination of another fantastic FIRST season, and once again, we've had fantastic growth," said FIRST President Donald E. Bossi. "More than half-a-million young people directly participated in our programs, which engaged 61,000 teams, an impressive 23 percent increase from just last year. We will not stop [growing] until all students have access to the education and experiences that FIRST programs provide."
Mary Barra, Chairman and CEO of General Motors and FIRST Championship Detroit Host Committee Co-Chair, spoke at the Closing Celebration. "I can say with complete confidence that I see many future GM engineers in this room tonight," Barra said. "You are a natural fit and you're getting a head start on exactly what we're working on today – autonomous and electric vehicle technology – and this will change tomorrow for everyone."
Students ages six to 8 participated in the FIRST Championship in Detroit. The event is one of the world's largest celebration of science, technology, engineering, and math (STEM) for students, kicked off last week with 15,000 students in Houston.
Four teams from Kalamazoo, Michigan; Clarkston, Michigan; Kingston, Ontario, Canada; and State College, Pennsylvania, were the FIRSTRobotics Competition Winning Alliance for this year's game, FIRSTPOWER UP.
Teams from Lexington, Massachusetts; Baden, Pennsylvania; and Lexington, Massachusetts, were the FIRST Tech Challenge RELIC RECOVERY Winning Alliance.
Among the participants, many earned honors for design excellence, competitive play, research, business plans, website design, and teamwork. A not-for-profit organization founded in 1989 by inventor Dean Kamen, FIRST (For Inspiration and Recognition of Science and Technology) inspires innovation and leadership in young people through engaging, team-based robotics challenges.
In Detroit, 700 robotics teams from 37 countries participated in the event.