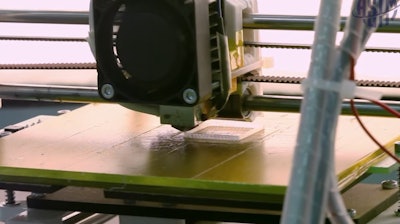 ASTM International
ASTM International has a new standard that supports the growing use of metals in additive manufacturing (3D printing) to make quality aerospace parts and medical devices.
"Specifically, the standardized practice (soon to be published as F3303) outlines ways to qualify machines and processes that help build parts using laser or electron-beam powder bed fusion," notes ASTM member Amir Farzadfar, Materials and Process Engineer for Additive Manufacturing at Corning Inc. "The standard also outlines the related steps needed to configure and control digital data. By ensuring that additive manufacturing steps are fixed and repeatable, customers can be more assured of part quality."
The standard was developed by ASTM International's subcommittee on materials and processes, part of the larger committee on additive manufacturing technologies (F42).
"An additional standard is underway to support part qualification, quality assurance, and post-processing of powder bed fusion parts," Farzadfar adds.
ASTM International recently announced its new partners – EWI, Auburn University, and NASA – for an Additive Manufacturing Center of Excellence, which will further support standards development and related efforts in this area.
For more information on ASTM International standards for additive manufacturing, read "The Global Leader in Additive Manufacturing Standards."