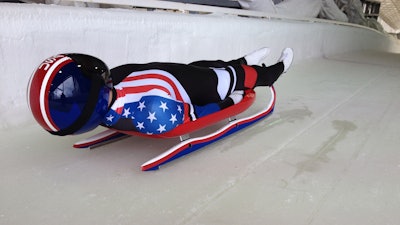 If you found yourself watching the 2018 Olympic Winter Games in PyeongChang, South Korea, you may have unwittingly witnessed the power of a collaboration between the USA Luge team and The Dow Chemical Company.
The USA Luge team competed using sleds designed by their technical staff and the engineers at Dow. The two organizations have been working together since 2007 to combine science, engineering and technology for superior sled performance on the track.
Dow is applying the knowledge of physical sciences and state of the art engineering tools to develop an advanced luge sled. For example, Dow engineers gather insights into the track dynamics through a computer-based model which helps to understand the interplay between various types of forces acting on the athlete and sled.
Through its advanced manufacturing and testing capabilities, Dow creates prototypes of new designs and validates them with internal testing. Promising ideas are further tested on the track by USA Luge athletes who are able to assess the practical advantages of the changes.
"By transforming the end-to-end process of sled R&D, design and manufacturing, Dow helps to continually innovate the sleds that the USA Luge team uses," said Gordy Sheer, Director of Marketing and Sponsorship of USA Luge.
U.S. athlete Chris Mazdzer took home the silver metal in the men's singles luge event.