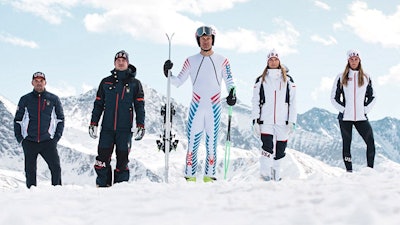 U.S. Ski & Snowboard Team
At the first Winter Olympics, in Chamonix, France, in 1924, athletes competed in uniforms made from natural material resources like wool, cotton and leather; some had sport-specific modifications to aid in performance (like impact protection or warmth) or appearance (like a coat or skirt that would flare when spinning). They did include colors and badges to signify the countries their wearers represented, but overall their dress could have largely passed for everyday clothes. Since then, athletes' uniforms have changed substantially.
Back 94 years ago, figure skaters like Sonja Henie of Norway wore coats, hats, sweaters and skirts that dazzled and swirled.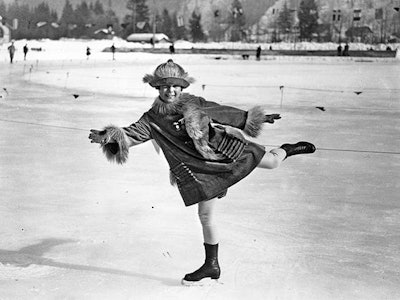 The Canadian hockey team wore leather gloves and pads; wool socks, sweaters and leggings.
Norwegian Jacob Tullin Thams, the first-ever gold medalist ski jumper, wore loose trousers tucked into socks, and a sweater over a shirt and tie.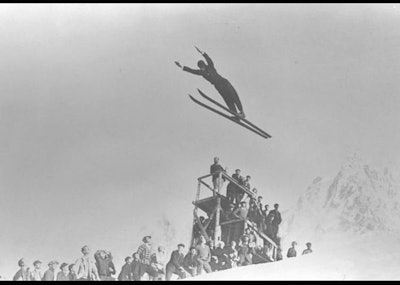 Curlers from team Great Britain wore wool knickers, sweaters and jackets, with shirts, ties, gloves and caps.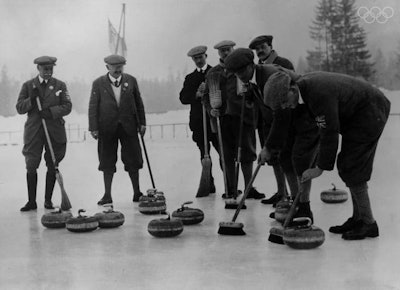 Team USA speed skaters wore semi-fitted leggings and tops, with stocking hats.
British bobsledders wore wool cable knit sweaters, trousers and caps, with a shirt and tie.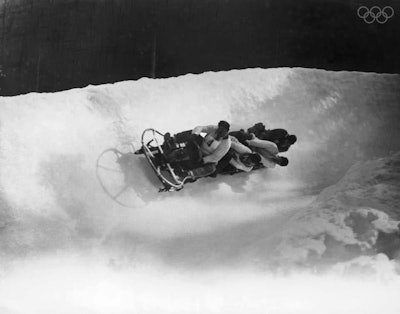 Engineering Uniforms
Today's Winter Olympics uniforms are engineered specifically for sport performance and look quite different from everyday clothes. And they're definitely safer.
Throughout my career as a sports product innovator and now a professor of a new graduate program in sports product design, I have seen that the work involved to create these high-performance products is enormously complex.
Sport companies will assemble teams of experts in design, pattern engineering, development, materials science, aerodynamics, data science, biomechanics and physiology to bring new ideas to fruition. Along the design process, they will also consider the rules set forth by the governing body of the specific sport, the patent landscape and branding.
Walking Through the Process
As an example, let's consider the development of a new uniform for ski jumping. The goal is to create a speed skin for a person sliding down a track, leaping into the air and covering as much distance as possible while aloft. Jumpers aim to go fast, high and far – while staying warm, protected against possible crashes and having the freedom of motion to fly.
To get the process started, the innovation team will collect feedback about earlier versions of the uniforms their company previously produced. They may even look at competitor products. They'll talk with coaches, groups and individual athletes to get detailed input about what worked well and what needed improvement.
They'll acutely focus on the key materials that the speed skin will be made from. Material scientists will scour high-tech trade shows and research labs to identify new technologies that can enhance aerodynamics, thermoregulation and weight reduction. They may even create a new material that could be patented.
Unlike the shirt-and-tie outfit worn to win gold in 1924, modern ski jumping skins are made from synthetic polymers and are fine-tuned from the fiber to finish level. It turns out that ski jumping outfits are a lot like wet suits, made from spongy materials that help insulate and allow for the application of team logos, branding and graphics. Sometimes these specialized materials will be adopted for use in other sport products that have similar performance goals, while some manufacturers will protect their intellectual property and never commercialize them for mass distribution.
Custom Fit
It's also important to minimize wind resistance to maximize speed. Super-G skiers, who wear similar uniforms to ski jumpers, can reach speeds of more than 90 miles an hour.
Pattern engineers will draft detailed blueprints to make sure the specified materials drape smoothly around the athlete's body, while making sure dimensions for men and women, different heights and physiques are considered. 3-D body scans may even be taken to understand the variations in shape. The team must also consider International Ski Federation rules, where there are requirements for tightness of fit and limits on how wind resistant suits can be, to prevent athletes from being unfairly aerodynamic.
Finalizing the Design
Once the product design has been approved, the innovation team will develop multiple prototypes that they can test in a wind tunnel on a mannequin and on the slopes with ski jumpers. They'll examine how well the materials and pattern shapes interface and seek approvals from national and international Olympic committees, as well as sports governing bodies (like the International Ski Federation). Sometimes athletes can be disqualified if their uniforms do not meet competition rules.
Once everything is perfected, the suits will be manufactured and shipped to athletes in time for the Olympic trials, and then the Winter Games. Every four years, the process will start over again, to make sure the next generation of Olympians are outfitted in the best uniforms possible to win gold.