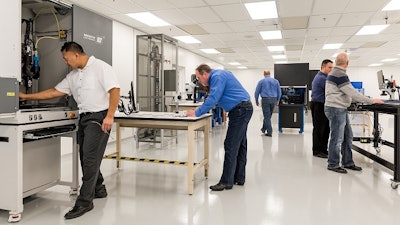 Spectralytics
Spectralytics is a laser cutting and processing contract manufacturer serving the medical device industry. The company has 175 employees across three manufacturing facilities.
Building upon its reputation of high-quality laser processing solutions for medical device manufacturing, Spectralytics is expanding its capabilities with a new facility, team and equipment specifically dedicated to helping customers develop concepts, validate designs, design for manufacturability and build quick-turn biocompatible metal and polymer prototypes.
The new product development center is be located in Maple Plain, Minn.
Spectralytics works with many medical device OEMs in cardiovascular, neurovascular, drug delivery and orthopedics. The new facility was built in response to demand for increased prototyping and development support to help get new products to market faster.
The 15,000 sq. ft. facility includes:
Laser cutting, welding, and ablation machines at multiple wavelengths and speeds
Laser machined components in tube, sheet, wire, sub-component and other raw stock shapes
Capacity to scale into commercial, high volume production
Stocked materials, including 100+ metals, polymers and composites under one roof
Class 10,000 Cleanroom
Post-processing services, including marking, annealing, chemical cleaning, passivation, texturing, electropolishing, assembly, and heat shrinking
Inspection capabilities
For more information, visit http://www.spectralytics.com/development-center/.