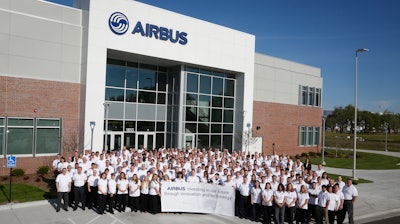 Airbus
Yesterday Airbus Americas Engineering officially opened its new Engineering Center on the Wichita State University (WSU) Innovation Campus.
In a ceremony attended by the approximately 300 Airbus employees who work at the center and special guests, including Lt. Governor Jeff Colyer, the company recognized the importance of locating academia and industry together to improve innovation and competitiveness.
The company also relaunched the Airbus Foundation Flying Challenge in Wichita, which will see Maize USD 266's Maize High School and Maize South High School junior and senior students building an airplane in partnership with Airbus and Tango Flight.
Being a resident on the campus provides a support infrastructure to Airbus Engineering that would otherwise be cost prohibitive to duplicate in a stand-alone engineering center, including access to engineering labs, research faculty, conference facilities, educational opportunities, and easier collaboration with other members of the Innovation Campus.
As a resident of the campus, Airbus is partnering with WSU within the university's Applied Learning Model, which engages students in real-world engineering projects, helps develop critical skills that are needed for engineering now and in the future, and helps produce graduates with experience, while also boosting Airbus' competitiveness.
The Airbus Foundation Flying Challenge is a global program that leverages aviation to inspire young people to continue their education, find their professional vocation and realize their dreams through mentoring with Airbus employee volunteers.
The program initially launched in Wichita in 2012 with a focus on middle school students.
The 2017 challenge will focus on science, technology, engineering and mathematics (STEM) education at the high school level through the construction of a flying aircraft.
The program will build on the existing Aerospace Engineering curriculum at Maize USD 266, which incorporates Project Lead The Way (PLTW) in its curriculm. Airbus mentors will work with students to build an FAA Licensed RV-12 "kit plane".
The students will be exposed to aircraft design, engineering and production activities, as well as project management, team work and finally, the freedom of flight.
Tango Flight will provide the Airbus Foundation with a unique turnkey solution including an integrated aerospace engineering curriculum, aviation training, aircraft ownership, aircraft insurance and mentor program development.