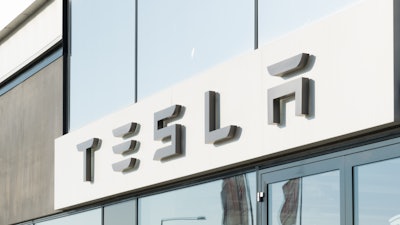 Over the last six to eight months, Model 3 production hold-ups have led to historical loses for Tesla, and led to closer scrutiny of the company's capabilities. To help quench the financial industry's thirst for more Tesla performance data, Bloomberg recently launched their Tesla Model 3 Tracker that uses two data points to estimate production rates.
The financial news outlet currently estimates that Tesla has built 7,438 Model 3s, and is currently producing them at a rate of 1,025 per week – a considerable improvement over previous reports but still far short of the 5,000 weekly models promised by Elon Musk. It's worth noting that the site's numbers fluctuate daily.
To track Model 3 production, Bloomberg first looks at the batch VIN registrations Tesla submits to the National Highway Traffic Safety Administration. Every new car sold in the United States needs a unique VIN, so tracking them gives an indication of how many cars Tesla is preparing to deliver.
Bloomberg compares the batch amounts of VINs to the days between registrations to determine production rates. Bloomberg admits that it doesn't account for things like VINs registered before a car was built. There's also nothing stopping Tesla from registering VINs for the nearly half-million Model 3 reservations all at once. Essentially, it's a more highly educated guess. The site will also update its numbers as Tesla announces quarterly production figures.