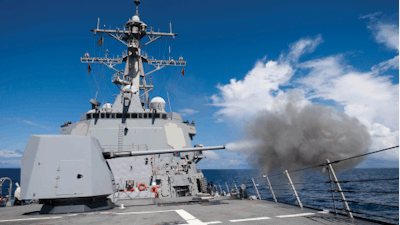 U.S. Navy
LOUISVILLE, Ky.--(BUSINESS WIRE)--Jan 22, 2018--The U.S. Navy has awarded BAE Systems a $46.8 million contract option to deliver four additional Mk 45 Naval Guns. The contract modification calls for upgrading existing guns to the Mod 4 configuration to increase the firepower and extend the range of the weapons. This modification to the initial 10-gun contract brings the full value of the award to $176.8 million for the 14 guns.
The Mk 45 is the lightest, most compact, 5-inch fully automatic naval gun in the world and is the most widely deployed, to the U.S. Navy and other allied navies. Updates to the Mod 4 configuration include a structurally strengthened gun mount and more advanced electronics. With its stronger mount, the gun can achieve 50 percent higher firing energy, allowing munitions or projectiles to travel faster and farther. Its new fully digitized control system also provides significantly greater computing power and features a touch-screen user interface.
"The Mk 45 is the industry standard for large caliber naval guns, and the Mod 4 updates make the system easier to integrate onto the ship and more adaptable to advanced munitions," said Joseph Senftle, vice president and general manager of Weapon Systems at BAE Systems. "As the world leader in developing and manufacturing maritime guns, we are committed to producing reliable and affordable technology that meets the warfighter's needs today and well into the future."
The upgraded Mk 45 guns are expected to remain in service for decades to come. The cost-effective Mod 4 conversion helps increase their adaptability for advanced munitions that are under development and are considered an essential component of future surface warfare.
Work on the Mk 45 Mod 4 conversions will be performed at the BAE Systems' facility in Louisville, Kentucky, with support from the company's supplier base, and is expected to be complete by 2021.