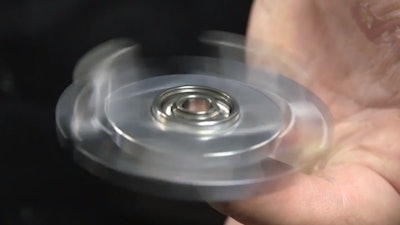 Eric Sorensen
SAN FRANCISCO (AP) — Matt Lauer. Bitcoin. DACA. Monkey selfies. Jeremy Lin's hair. Do-it-yourself eclipse glasses. Tom Petty's death. National anthem protests in the NFL. And "Cash Me Outside."
These were some of the people, topics and memes that trended to the top of Google searches in 2017. The search terms reflected the United States in upheaval over sexual misconduct allegations against powerful men, reeling from the tumultuous presidency of Donald Trump (What is "covfefe," by the way?), and people around the world searching for information about the latest iPhone and how to make slime.
Three of the top 10 TV shows in the U.S. debuted on Netflix, the same as last year.
April the Giraffe made news by giving birth live on YouTube.
And the world grooved to Luis Fonsi singing "Despacito."
Here are some of the terms Google says had the highest sustained spike in traffic compared to 2016, filtered for spam, repeat queries and adult keywords. The full list is here.
UNITED STATES
Searches
Hurricane Irma
Matt Lauer
Tom Petty
Super Bowl
Las Vegas Shooting
Mayweather vs. McGregor Fight
Solar Eclipse
Hurricane Harvey
Aaron Hernandez
Fidget Spinner
How to
How to make slime
How to make solar eclipse glasses
How to watch the solar eclipse
How to watch Mayweather vs. McGregor
How to buy Bitcoin
How to freeze your credit
How to solve a Rubix Cube
How to make a fidget spinner
How to cook a turkey in the oven
How to screen record
People
Matt Lauer
Meghan Markle
Harvey Weinstein
Michael Flynn
Kevin Spacey
Bill O'Reilly
Melania Trump
Kathy Griffin
Milo Yiannopoulos
Gal Gadot
Losses
Tom Petty
Aaron Hernandez
Chris Cornell
Bill Paxton
Hugh Hefner
Chester Bennington
Charlie Murphy
Lil Peep
Jim Nabors
David Cassidy
What is
What is DACA?
What is Bitcoin?
What is a solar eclipse?
What is antifa?
What is net neutrality?
What is covfefe?
What is the antikythera mechanism?
What is a fidget spinner?
What is the Paris Climate Agreement?
What is a hurricane?
GLOBAL LISTS
Searches
Hurricane Irma
iPhone 8
iPhone X
Matt Lauer
Meghan Markle
13 Reasons Why
Tom Petty
Fidget Spinner
Chester Bennington
India National Cricket Team
Songs/Lyrics
Despacito
Shape of You
Perfect
Havana
Look What You Made Me Do
HUMBLE.
Versace on the Floor
Closer
Bad and Boujee
Rockstar
Memes
Cash Me Outside
United Airlines
Elf on the Shelf
What in Tarnation
Spongebob Mocking
Romper
IT
Joe Biden
Game of Thrones
Hot dog
Elections
French election
German federal election
UK election
Uttar Pradesh election
Georgia special election
Montana special election
British Columbia election
BMC election
Sicilian regional election
Dutch election