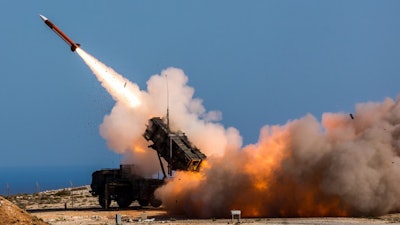 Sebastian Apel/U.S. Department of Defense, via AP
DUBAI, United Arab Emirates (AP) — A senior executive at U.S. defense giant Lockheed Martin said Tuesday the company is delivering its Patriot missiles to Saudi Arabia and that the kingdom is on track to become the second international customer, after the United Arab Emirates, to acquire its THAAD system.
Saudi Arabia is aggressively building up military capabilities as tensions spike with its regional rival Iran. The kingdom intercepted a missile fired by Yemen's Shiite rebels at Riyadh earlier this month, the deepest strike inside the kingdom since its forces went to war in Yemen in 2015.
Saudi Arabia blamed Iran for supplying the rebels with the missile, and a senior U.S. military official appeared to back Saudi claims that the missile was manufactured by Iran. Tehran denies providing material support to the rebels in Yemen, who say the missile was locally developed.
The U.S. Embassy in Saudi Arabia on Tuesday advised U.S. citizens of what it said was "the continuing threat posed by ballistic missiles fired by rebels in Yemen at Saudi Arabia."
Reports suggested the kingdom may have used the Raytheon MIM-104 Patriot system to shoot the missile down. The Patriot surface-to-air anti-missile system is produced by Raytheon Co. of Waltham, Massachusetts, and Lockheed Martin produces variants of the missile it shoots. The system was first used during the 1991 Gulf War in Saudi Arabia.
President Donald Trump has credited U.S. defense systems for Saudi Arabia's recent interception.
"A shot was just taken by Iran, in my opinion, at Saudi Arabia. And our system knocked it down," Trump wrote on Twitter after the Nov. 4 attack. "That's how good we are. Nobody makes what we make and now we're selling it all over the world."
Lockheed Martin's Vice President of Integrated Air and Missile Defense, Tim Cahill, told reporters at the Dubai Air Show on Tuesday that market prospects for U.S.-made missile defense systems are "very, very good."
"You might imagine if the threats are getting more sophisticated and our systems tend to be on the more sophisticated, more capable end, that that's probably good for business," he said.
"We are fielding, I think, more requests than any of us have ever seen before worldwide. Many countries are interested in what our products can do," Cahill added.
The U.S., however, is facing competition from other suppliers, including Russia. Saudi King Salman was in Moscow last month, where he signed an agreement to purchase the Russian-made S-400 air defense missile system.
Cahill said that trying to coordinate the Russian-made system with those made in the U.S. will be problematic.
"The governments will have to decide whether that's something they can do, but I can tell you absolutely that will be a difficult subject," he said.
Lockheed Martin Corp. of Bethesda, Maryland, has two generations of its latest PAC-3 missile, also known as Patriot Advanced Capability. Cahill said the company is delivering the first generation, known as CRI's, to Saudi Arabia. The kingdom does not yet have the second generation, known as MSE's.
A main difference between the PAC-3's and THAAD systems is that the latter reaches much higher altitudes. THAAD, short for Terminal High Altitude Area Defense, can destroy incoming missiles without a warhead through the energy of its collision with the target.
Cahill said Lockheed Martin is also developing a "mini hit-to-kill" missile that is about 2.5 feet-long (.75 meters) and weighs in at just five pounds (2.25 kilograms). It is designed to target rockets, artillery and mortar fire in ground combat.
A rift between Qatar and its Gulf neighbors, including Saudi Arabia and the UAE, has raised concerns in Congress about the unity of Washington's Gulf allies. In late June, after the diplomatic spat erupted, Senate Foreign Relations Committee Chairman Bob Corker said he would halt arms sales to the Arab Gulf states until there's "a better understanding of the path to resolve the current dispute."
Cahill said because THAAD is seen as a "purely defensive system," the State Department submitted the potential sale for Congressional notification and the 30-day period for review expired earlier this month.
"Generally speaking, THAAD has not typically been caught up in concerns about delivering offensive capability," he said.