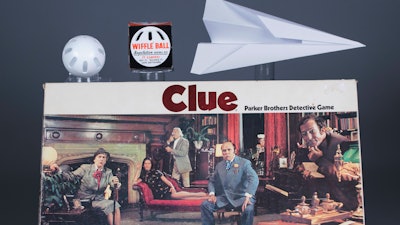 Victoria Gray/The Strong via AP
ROCHESTER, N.Y. (AP) — The board game Clue, the Wiffle Ball and the paper airplane are the newest inductees into the National Toy Hall of Fame.
The trio was honored at the upstate New York hall on Thursday. The Class of 2017 takes it place alongside more than 60 previous honorees, including the dollhouse, jump rope and Radio Flyer wagon.
The winners are chosen on the advice of historians and educators following a process that begins with nominations from the public.
To make the hall of fame, toys must have inspired creative play across generations.
This year's other finalists were: the board game Risk, Magic 8 Ball, Matchbox cars, My Little Pony, PEZ candy dispenser, play food, sand, Transformers and the card game Uno.