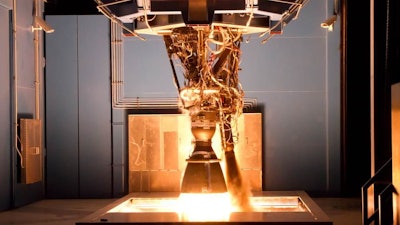 Although news didn't break until yesterday, SpaceX apparently experienced an explosion at their development facility in McGregor, Texas over the weekend. The blast stemmed from tests being performed on Merlin rocket engines. There are such engines on every reusable Falcon 9 rocket booster. No injuries were reported and the cause of the explosion in under investigation.
According to Business Insider, SpaceX was reportedly testing an experimental version of the engine at the time of the blast. All Falcon 9 rockets use a design called block-four, with the test in question trying out a more powerful block-five system that would allow for heavier payloads. The explosion unexpectedly occurred during when liquid oxygen was being pumped into the engine to test for leaks.
The bay in which the explosion occurred will be off-line for two to four weeks. Although this shouldn't impact any scheduled launches, it will obviously delay work on the block-five engines. The company's 16 successful launches so far in 2017 is double the number it completed in 2016.