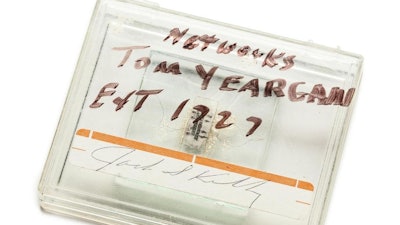 Heritage Auctions, HA.com via AP
DALLAS (AP) — A prototype of the first integrated circuit built at Texas Instruments is expected to sell for $400,000 at auction.
Heritage Auctions said it will be offered Saturday in Dallas by the family of Tom Yeargan, a technician who worked with engineer Jack Kilby.
Kilby invented the integrated circuit, which opened the way for the microchips that are the brains of today's computers. Kilby won the 2000 Nobel Prize in physics for his work.
Included in the auction offering will be a protective case signed by Kilby, another integrated circuit prototype and a statement by Yeargan chronicling his role in developing the integrated circuit.
The same prototype was offered at auction at Christie's in New York in 2014 but failed to sell when it didn't reach the minimum reserve.